Primary 2
Welcome to Miss Coll's P2 Class!
Literacy - April - June 2019
Language & Literacy – In this half term we will:
Talking and Listening
To retell stories, to give main points in sequence and to pick out significant incidents.
Sentence Construction & Punctuation:
To read recounts and begin to recognise generic structure, order of events, sequence words.
To learn about word order by reordering sentences.
Reading
To identify simple questions and use text to find answers.
To know that phonological, contextual, grammatical and graphic information can be used to work out, predict and check the meanings of unfamiliar words and make sense of what they read.
Phonics & Spelling:
Hear, read and spell initial, final and medial letter sounds in words.
Understand two letters can make one sound.
Handwriting:
Write lower and upper case letters using the correct sequence of movements , ensuring the correct letter orientation to write on lined paper.
Tall, small and below the line letters.
Writing:
To write simple accounts linked to topics using the language of texts read as models for own writing.
Use phonological and graphic knowledge and sight vocabulary when spelling during writing tasks.
World Around Us - April - June 2019
World Around Us (Topic Work) -
Our topic in May and June will be 'Peter Rabbit's Adventure!'
Geogrpahy
To identify the main features of home and school (P)
To use language to identify position relative to other objects or places (P)
To design and make models of real or imaginary places (P)
To follow and to give simple directions to places in the immediate environment (P)
History
To recognise and record the sequence of events in simple stories and in personal history e.g. photos and artefacts (COT)
To identify how we change at different ages (I, COT)
To find out about their own and other people's history (COT)
To use simple vocabulary in relation to the passage of time e.g. before/after (COT)
Science and Technology
The names and functions of external body parts (I)
To recognise that there is a wide variety of animals and plants (I,P)
To respect and care for the world we live in (I, P)
To be aware of the range of wasted materials in and around our own localities (I, P, COT)
Our Visit to Palace Stables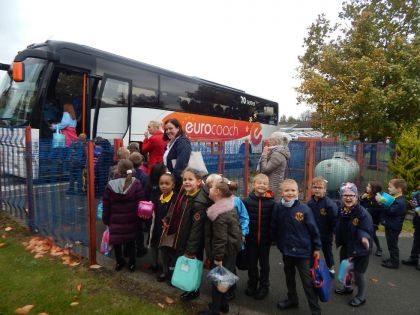 Numeracy - April - June 2019
Mathematics & Numeracy – In this half term we will:
Understand and use mathematical language when talking about their work. Solve everyday problems in the classroom. Recognise simple patterns and say what comes next.
Number
Count forwards and backwards in 1's, 2's and 10's from any number answers within 100.
Show that numbers between 10 and 100 can be made up of a "ten" and so many "ones".
Use complementary addition to work out 'how many more' to make a total.
Use numberline to count back for subtraction within 20, recording calculations horizontally.
Find the difference between two numbers within 20 practically.
Solve problems using addition and subtraction skills, selecting the operation required.
Money
Investigate different combinations of all coins up to 20p to make a particular amount within 20p.
Measures
Understand and use analogue and digital clocks for quarter past times.
Understand and use comparative language for weight, capacity, length and area.
Shape and Space
Compare two different 3D shapes and say how they are similar / different.
Handling Data
Talk about possible areas for data collection, and represent this data using pictographs or block graphs (including ICT generated).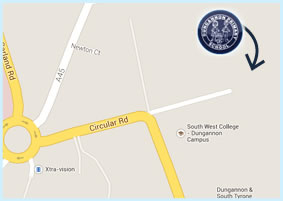 Contact Details
Dungannon Primary School,
Circular Rd,
Dungannon,
County Tyrone,
BT71 6BE
T: 028 8772 2250