Primary 2
Welcome to Miss Cousley's P2 Class!
Literacy - September - October 2017
Language & Literacy – In this half term we will:
Talking and Listening
Listen to and follow instructions accurately.
Speak clearly and audibly with confidence to a range of audiences.
Reading
Participate in guided reading sessions and develop visual, meaning and grammar reading strategies.
Know the purpose of captions, labels and lists.
Sentence Construction & Punctuation:
Recognise full-stops and capital letters when reading and name them correctly.
Use upper case letters and full stops to demarcate sentences
Phonics & Spelling [building on & extending P1 work]:
Linking sounds to letters, sounding the letters of the alphabet.
Hearing and saying sounds in order in words.
Blending sounds to read and write CVC words.
Handwriting:
Use a comfortable and efficient pencil grip.
Write lower case letters using the correct sequence of movements.
Writing:
Write captions for their own work.
Write and draw labels for everyday classroom use.
Use ICT to create signs, labels and captions.
Numeracy September - October 2017
Mathematics & Numeracy – In this half term we will:
Understand and use mathematical language when talking about their work.
Number
Count forwards and backwards in 1s and 2s from different starting points within 20.
Recognise, read and write numerals within 20.
Touch count, make sets, label sets and order sets of numbers within 20.
Money
Recognise 1p, 2p, 5p, 10p and 20p coins.
Use 1p in shopping activities – buy 2 items at a time (total within 20p)
Measures
Use mathematical language when comparing objects for weight, length, capacity and area.
Develop an understanding of the passing of time through practical activities.
Shape and Space
Sort and group 2D shapes
Use everyday language to describe position, direction and movement.
Handling Data
Use Tree and Venn diagrams to sort.
Contribute to class pictographs and interpret the diagram.
World Around Us - September - October 2017
World Around Us (Topic Work) -
Our topic in September and October will be 'Stop, Look, Listen and Think!' We will be finding out about and naming external body parts, focusing on eyes, ears and feet. We will investigate why particular materials are used to make different types of footwear and name these. We will look at features of shoes e.g. grips and how they help us to stop! We will play in our shoe shop in our classroom. We will look closely at socks and find out how to wash and dry socks. We will make a sock puppet. We will find out about road safety and cross the road safely with our school lollipop lady, Mrs Dougan.
**The key word grids use specific vocabulary to support our topic work. Please spend some time discussing these each Monday night with your child. In P2 your child should be able to answer questions using a full sentence, rather than a one or two word answer.**
ICT
Explore: Participate in whole class activities
Express: Create a simple picture using the interactive whiteboard and pen.
Exchange: Find out information using television programmes.
Evaluate: Know that digital methods can be used to communicate.
Exhibit: Know that work can be printed. Print their work out for display.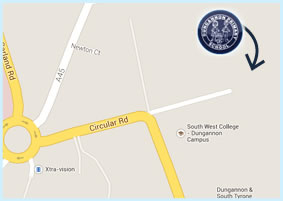 Contact Details
Dungannon Primary School,
Circular Rd,
Dungannon,
County Tyrone,
BT71 6BE
T: 028 8772 2250