Primary 4
Welcome to Miss Hall's Primary Four Class!
Literacy - April - June 2019
Language & Literacy – During May and June:
We will be learning to:
Grammar & Punctuation:
Use commas to separate items in a list.
Identify pronouns and understand their functions in sentences
Phonics/ Spelling:
Understand the spelling and meaning of prefixes e.g. mis-, non-, ex-, co-, anti-
Understand the term homophone and know that words can sound the same but have different meanings e.g. sea and see.
Continue to extend our knowledge the same phoneme (sound) can be represented in a variety of ways.
Writing Genres to include:
Letters
Alphabetic texts
Poetry
Pupils will explore the main features of each genre and will compose their own versions.
Reading
As well as Guided Reading the children will develop their skills by participating in the Accelerated Reader programme.
World Around Us - April - June 2019
World Around Us - "WW2"
Geography (Map Work)
Understand that a world map can be used to locate places.
Know and find the 8 compass points.
History
To find out about famous people in the past. (e.g. Anne Frank)
Find out about the past from the memories of older people
Find out about the past from artefacts and objects from the past
To place events on a timeline
Science and Technology
To recognise some differences between materials including colour, shape, texture and behaviour.
The importance of a fair test: e.g. parachute investigation/ blackout
RSPB Visit DPS!
Numeracy - April - June 2019
Mathematics & Numeracy – During May and June:
We will be learning to:
Number
Carry out shopping activities calculating totals and change within £10.
Add and subtract 3-digit numbers with and without exchange.
Have fast recall of 3x and 4x multiplication and division tables.
Add / subtract 9, 19, 29, 39 etc to numbers within 100.
Solve a range of worded problems.
Data Handling
Read simple pie charts and bar graphs.
Measures:
Estimate and measure the weight of lighter objects in multiples of 100 grams.
Estimate, measure the capacity of smaller containers in multiples of 100 ml.
Understand and use 5 minute intervals past and to the hour
Shape & Space:
Recognise and describe an increasing range of 3D shapes, to include pyramid, prisms.
Identify which 2D shapes will tessellate and which will not.
Identify angles in 2D shapes which are greater than or less than a right angle.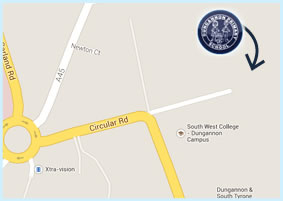 Contact Details
Dungannon Primary School,
Circular Rd,
Dungannon,
County Tyrone,
BT71 6BE
T: 028 8772 2250