Primary 4
Welcome to Miss Coll's Primary Four Class!
Literacy - November - December2017
In this half term we will:
Grammar & Punctuation:
Past tense: adding "ed" and common irregular past participles e.g. said, went, came
Speech marks
Adjectives
Apostrophes for contraction e.g. I am à I'm
Alphabetical order
Phonics/ Spelling:
Understand and spell common contractions e.g. I'm, didn't
Form plurals using "s" and "es"
Extend our knowledge the same phoneme (sound) can be represented in a variety of ways.
Writing
Identify the features of a recount
Plan and write a recount
Read and compose our own shape poems and calligrams
Write creatively, using a given role
Reading:
As well as Guided Reading the children will develop their skills by participating in the Accelerated Reader programme.
Numeracy - November - December 2017
In this half term we will:
Number

Develop a standard written method for vertical addition TU (with exchange), estimating the answer before calculating.
Understand that addition and subtraction are inverse operations.
Begin to understand the concept of multiplication and division through practical activities.
Revise coins up to £2
Carry out shopping activities calculating totals and change within £1.
Understand the concepts of X and -:- through practical activities.
Begin to develop recall of 2 and 10 X and -:- facts.

Measures:

Develop an appreciation of the weight of 1kg.
Estimate and measure using the metre as a standard unit.
Understand and use ¼ to in analogue and digital time.
Know that there are 24 hours in one day, a.m. = 12 hours and p.m. = 12 hours.
Know that there are 60 minutes in 1 hour, 30 minutes in ½ hour and 15 minutes in ¼ hour.
Calculate durations involving hour, ½ past and ¼ past times.

Shape & Space:

Understand and use concept of symmetry through practical activities. Recognise one line of symmetry in a variety of 2D shapes, designs and pictures.
Fit shapes together to make new shapes (e.g. tangrams).
Understand and use "quarter turn", ½ and ¾ turn
World Around Us - November - December 2017
Our topic this half term is entitled 'Famous People'. We will consider the life stories of Samuel Pepys who recorded the events of The Great Fire of London, Louis Braille and Florence Nightingale and the incredible impact she had on nursing.
As the topic develops the children will have develop their historical awareness by investigating why we remember these people and their impact on our lives today. There are also cross-curricular links to Geography, ICT and Science with activities including:
Identify the countries & capital cities of the UK
Role-play based on Florence Nightingale and her impact on conditions in Scutari hospital
Contrast and compare hospitals in the past with hospitals today.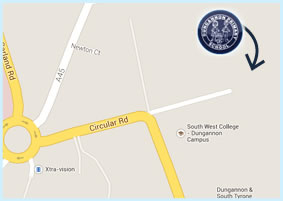 Contact Details
Dungannon Primary School,
Circular Rd,
Dungannon,
County Tyrone,
BT71 6BE
T: 028 8772 2250