Primary 4
Welcome to Mrs Crute's Primary Four Class!
Literacy - September - October 2017
In this half term we will:
Reading
Carry out Running Records and a spelling test in order to establish groupings.
Engage in guided and shared reading sessions using both fiction & non-fiction texts
Develop our literal reading comprehension skills.
Sentence Construction & Punctuation:
Revise the need to demarcate the end of a sentence with a full stop and the start of a new one with a capital/ uppercase letter
Investigate the use of question marks and exclamation marks in reading and writing.
Grammatical Awareness:
Use the term "verb" correctly
Use verb tenses with increasing accuracy in speaking & writing: see/saw, go/went etc.
Phonics & Spelling [building on & extending P3 work]:
Revise the fact that two letters can represent one sound [e.g. sh, ch, th, ng, ck, wh, qu)
Know that the same phoneme (sound) can be represented in more than one way e.g. go, grow, float, note.
Handwriting:
Learn the new formation of the letters "f" and "k"
Begin to learn how to join our letters using the Nelson script
Revise the correct formation of all lower and uppercase letters.
Writing:
Learn to identify the features of a recount.
Plan, write & begin to edit our own recounts.
Numeracy - September - October 2017
In this half term we will:
Carry out baseline assessments.
Revise 100 square – explore and sequence numbers to 100 and extend up to 500, read & write any number up to 100, extending up to 500 and be secure with the terms before/ after/ between.
Revise counting in steps of 1, 2, 5 & 10 from a given number within 100, extending to 200.
Revise odd/even numbers up to 100
Add/ subtract ten, a multiple of 10 to any number using a 100 grid and explain the number pattern.
Continue to use knowledge of place value to develop a practical method for vertical addition of TU (with exchange)
Know all single digit addition and subtraction facts with quick recall. [This is extremely important.]
Revise coins up to £1
Carry out shopping activities finding totals within £1.
Topic Maths
Consider issues which require collecting data.
Use tallying methods (i.e. bar gate convention to represent groups of 5: )
Collect data in the context of a survey (e.g. a traffic survey)
Estimate and measure using the metre as a standard unit.
Revise days of the week and months of the year.
Revise o'clock, ½ past and ¼ past the hour.
Begin to consider a.m. and p.m.
Revise 2D shape names and their properties
Recognise and use mathematical names for 3D shapes.
World Around Us - September - October 2017
Our topic this half term is 'Birds.'
The pupils will be learning to identify and name a variety of local birds and 'birds from around the world.' They will design and make a model bird. They will be examining the anatomy, lifecycle and habitats of birds and will explore the concepts of migration and incubation. They will investigate food chains and will examine the importance of birds in our eco-system and the relationship between humans and birds. The will also compare and contrast birds from Ireland and from around the world, exploring similarities and differences.
An on-going activity throughout the P4 year will be observing and recording the daily weather using simple symbols and measurements. This will be related to their 'birds' topic and how different species of birds live in different climates
ICT
Use Book Creator to create a bird-themed factfile. We will evaluate a range of ICT links about birds and review their usefulness when learning about birds. We will post comments about our topic work on News Desk on My School. We will create presentations about our Birds topic work using the Ipads.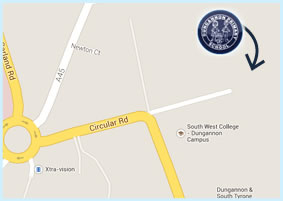 Contact Details
Dungannon Primary School,
Circular Rd,
Dungannon,
County Tyrone,
BT71 6BE
T: 028 8772 2250