Primary Five
Welcome to Mrs Alexander's Primary Five Class!
Literacy - April - June 2019
Language & Literacy – In this half term we will be studying:
Writing Units
Persuasive writing
Write persuasively on an issue.
Draft and write a persuasive letter.
Use an appropriate source in construction of an argument.
Stories dealing with difficult feelings
Write a story about a dilemma.
Write an alternative ending for a known story.
Organise writing into paragraphs using clear chronological stages.
Sentence Level Work
Know the difference between a phrase and a clause.
Identify common punctuation marks; commas, speech marks and apostrophes.
Continue to revise and build on current knowledge and understanding of verbs, nouns, adjectives, adverbs and connectives.
Word Level
Understand the meaning of words using prefixes.
Explore words from other languages and dialects.
World Around Us - April - June 2019
World Around Us (Topic Work) -
Our Science, Geography and History activities will be based on the Topic of Electricity.
Some of the activities include:
Exploring famous inventors;
How electricity is produced;
How electricity can be conserved;
Renewable power sources
Electrical circuits
Pylon art
Hard at work in Primary 5!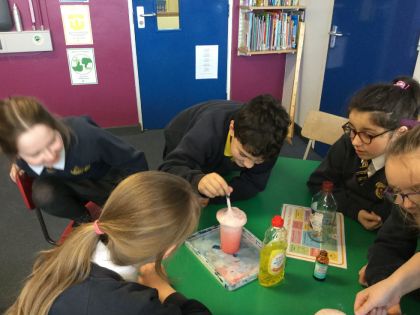 Numeracy - April - June 2019
Mathematics & Numeracy – In this half term we will be studying:
Number
Count forwards and backward in multiples of 3,4,5,6,7,8,9, within 100.
Understand the equivalence of fractions where the numerator is 1.
Use division facts to find fractions of quantities.
Find out what must be added/subtracted to any 3-digit number to make the next higher/lower multiple of 10 or 100.
Find doubles and multiples of 10 and 50.
Use written multiplication to multiply a 3-digit number by a single digit number.
Solve a range of written and mental problems, selecting the appropriate operation.
Calculate the input/output or operation within a given function machine.
Compare different ways of spending a fixed budget within £100.00
Calculate estimated costs by rounding prices.
Discuss ways of managing money effectively.
Learn the 6, 7 and 9 times multiplication facts as repeated addition and arrays. Year 5 will derive the corresponding division facts, using their understanding of the inverse operation.
Measures
Discuss, estimate and measure length in mm and cm.
Convert between mm and cm.
Know and use gram equivalents of 1kg, ½ kg, ¼ kg, ¾ kg and 1/10 kg.
Know and use millilitre equivalents of 1l, ½ l, ¼ l, ¾ l and 1/10 l.
Use the relationship between hours, minutes and seconds to convert time durations.
Use a thermometer to measure temperature in degrees Celsius to calculate temperature increases and decreases.
Shape &Space
Draw nets and use to construct a range of 3D shapes.
Calculate direction and amount of turn using simple maps.
Understand the need for a standard unit of turn smaller than a right angle.
Data Handling
Design and use a data collection sheet to investigate an identified issue, and evaluate its effectiveness.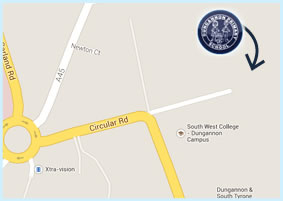 Contact Details
Dungannon Primary School,
Circular Rd,
Dungannon,
County Tyrone,
BT71 6BE
T: 028 8772 2250