Primary 6
Welcome to Mr Young's Primary Six Class!
Literacy - April - June 2019
Language & Literacy – During Term 3
PHONICS
Different spellings of the sounds: sion, t, c, z, j
GRAMMAR / PUNCTUATION / VOCABULARY
Write personal metaphors for performance poetry
Understand the term 'onomatopoeia'
Know and understand the term 'preposition
Understand how to use apostrophes
Know and understand the use of prefixes
Know and understand how to use connectives
Use superlatives and irregular verbs
WRITING
Persuasive writing to put or argue a point of view:
Know and understand the features of persuasive writing
Write a persuasive letter or speech
Choral and performance Poetry:
Write metaphors from original ideas.
Use personal metaphors in groups to create a class poem and performance.
TALKING AND LISTENING
Understand the techniques of persuasive language
Plan and manage a group task over time
Numeracy - April - June 2019
Mathematics & Numeracy – During Term 3
We will be learning to:
Number
Find fractions of quantities
Percentages of quantities and costs
Fractions/percentages/decimals conversions
Review 4 operations
Measures
Convert between unit of length, weight and capacity and apply.
Timetables and durations
Shape &Space
Classify triangles
3D shape properties and nets
Position and turning / 8 point compass
Data Handling
Find mean and range of a set of data
Probability of events
Mental Maths
Times tables and revision facts review
Word problems: percentages, temperature, sharing, time
Fractions and percentages of amounts
World Around Us - April - June 2019
World Around Us (Topic Work) -
Our topic this term is 'Flight'. Through this topic we will be looking at flight in relation to birds, nature and powered flight.
Mark key events in the history of flight on a timeline.
Find out about the lives of people involved in flight in history.
Name and understand the four forces of flight.
Know that air pressure is all around us.
Know that nothing can start/stop moving, change direction/shape unless a force is acting on it.
Study different types of aircraft.
Recognise the characteristics of different birds.
Use atlases to find out where different birds live in the world.
Plot locations on a map to show where birds migrate.
Recognise the main stages in the lifecycle of a dandelion.
Observe birds and record in graph form.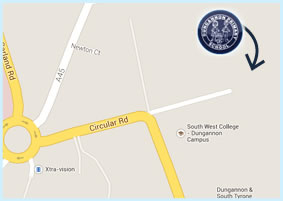 Contact Details
Dungannon Primary School,
Circular Rd,
Dungannon,
County Tyrone,
BT71 6BE
T: 028 8772 2250