Primary 7 SE
Welcome to Mr Erskine's Primary Seven Class!
Numeracy - January - March 2018
In this half term we will be studying:
Number
Division of larger numbers with and without remainders
Understand profit and loss
Finding Fractions of quantities
Adding fractions
Multiply and divide any number by 10, 100 and 100
Solve simple equations
Measures
Find the area of right angle triangles
Estimate, measure and calculate weight and length
Convert between all metric units of weight and length
Shape and Space
Understand then angle properties of regular 2D shapes – e.g. the relationship between the size of each angle and the number of sides.
Estimate given angles to an accuracy of 10o.
Measure angles using a protractor
Data Handling
Read and interpret bar and line graphs
collect Data and display in graphical form
Answer questions about given data
Find the mean, mode, medium and range
Mental Maths
revision of all times tables
Guess what we made our skeletons out of?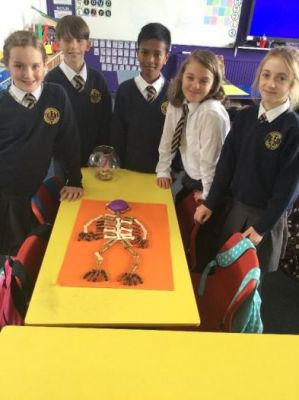 Literacy and Numeracy at Drumglass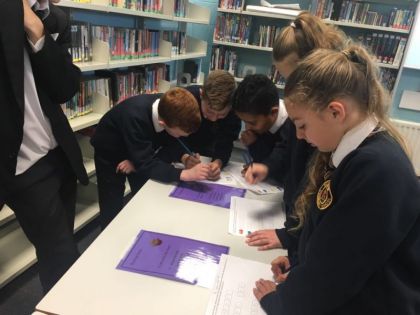 Literacy - January - March 2018
In this half term we will be studying:
GRAMMAR
review the importance of word order and the work that words do in sentences, in particular:
Comparative adjectives
Prepositions
Apostrophes
Direct Speech
WRITING –
Work on class novel 'Charlie and the Chocolate Factory to be completed
Poetry
We will be looking at how poets use the following powerful techniques:
Metaphors
Similes
Personification
The pupils will also look at the following forms of poetry and write their own -
WRITING – Journalistic Reports and Debates
Engage with texts that can be used to inform, persuade, mislead and sway the reader
Use Journalistic techniques to write news reports
Study how effective arguments are constructed in journalistic writing
Write a balanced report on a controversial issue
Take part in debates
Planning and redrafting of a final writing piece will also be carried out by the pupils.
World Around Us - January - March 2018
World Around Us (Topic Work) -
Our topic this half term is 'Business Beginnings (Young Enterprise NI) / Our Town – A Business Hub'
Children will:
Set up their own business
Create/design/market and sell a product
Evaluate the process of running a small business
In relation to Business in 'Our Town' children will have opportunity through a range of educational visits to:
Recognise that we are interdependent with other parts of the world for some of our goods and services (I, COT, M&E, P)
Recognise places and features, local and global, on a plan, map or photograph (P)
Investigate some of the major changes in the past which have affected our lifestyles e.g. the invention of electricity(COT)
Explain how a local community influences its environment over time (I,COT)
Identify continuity and change across a period of time (COT)
Identify some buildings which have been used for different purposes in the past (P, COT)
Use different types of evidence to find out about the past e.g. oral, written, visual and physical evidence (P & COT)
Explore and survey local habitats (I, P & COT)
Through the topic, 'Our Town', we will be investigating the existence of certain types of businesses, tracking their history and capturing and presenting information in a number of ways on how many people are employed by major businesses in Dungannon in 2018.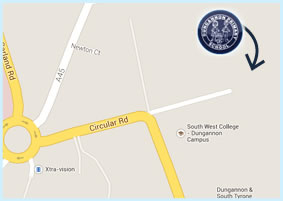 Contact Details
Dungannon Primary School,
Circular Rd,
Dungannon,
County Tyrone,
BT71 6BE
T: 028 8772 2250