Primary 7 HW
Welcome to Miss Wilson's Primary Seven Class!
Numeracy - April - June 2019
Mathematics & Numeracy – In this half term we will be studying:
Number
Revision of all numerical operations – addition, subtraction, multiplication and division
Division with remainders as decimals
Addition and subtraction of fractions
Multiplication of fractions
Algebra – a symbol representing a number
Measures
Use formulae to find the volume of a 3D shape
Estimate, measure and calculate capacity, selecting most appropriate unit and measuring equipment.
Understand that measurement of capacity is continuous and selecting an appropriate degree of accuracy for different contexts.
Convert between all metric units of capacity, involving up to 2 d.p.
Shape and Space
Understand concept of rotational symmetry
Construct angles using a protractor to an accuracy of 2o .
Understand angle relationships associated with parallel lines.
Data Handling
Use numeric system to develop idea of chance based upon number of possible outcomes. E.g. chance of getting "heads" when spinning a coin: one flip, two possible outcomes - chances are 1 out of 2.
Mental Maths
Revision of all times tables
World Around Us - April - June 2019
World Around Us (Topic Work) -
Our topic this half term is The Victorians
Children will:
Children will complete a KWL grid on the Victorians
Using a range of library books find out why it is called Victorian Times and when it took place. www.bbc.co.uk/history/walk/ (Take a walk through time and look at the main historical events)
Use pictures of different periods in British History (e.g. Iron Age, Vikings, romans etc) to make a timeline, to find out where the Victorians come in our history
Watch a video clip of the Young Queen Victoria and her coronation. Use photographs to find evidence about the coronation
Look at life in Victorian Times - www.bbc.co.uk/schools/primaryhistory/victorian_britain/
Children will be given the statement – True or False: 'My life in 2016 is much better than a child in the Victorian Era' – They will have to provide evidence, facts and information to support their argument using a range of sources.
We are going to investigate some of the inventions created during The Victorian Age.
http://history.powys.org.uk/school1/primhome.shtml Explore famous people and inventions dating from Victorian Times – ICT project linking inventors to inventions and produce a Powerpoint about Dr Barnados/ Florence Nightingale/ Vere Foster/ Margaret Byers (Work in groups and present to class)
Create a Victorian Art Display – children in groups will participate in creating different objects / aspects of a Victorian living room e.g table, wash basin set, wallpaper, curtains and fireplace.
Study the Work of William Morris – see Art planner
Victorian Times Project – research and gather information to produce a Victorian Scrapbook
Look at major events during the Victorian era that affected Ireland – The Potato Famine. Look at how life changed for people and immigration
Pretzel Play - Mindfulness Training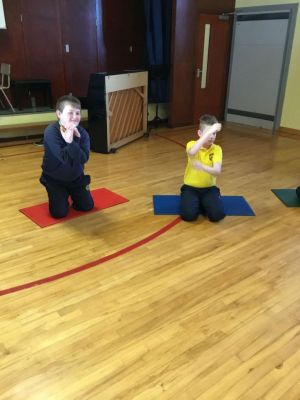 Literacy - April - June 2019
Language & Literacy – In this half term we will be studying:
GRAMMAR
Revision of all parts of speech
Compound and complex sentences
Understand how clauses can be manipulated to achieve different effects in complex sentences
Use active and passive verbs
Colons and semi-colons
WRITING –
Study how effective arguments are constructed in journalistic writing
Understand features of persuasive writing
\understand what makes a good speech, exploring structure and style
Write a speech on a subject they are interested in.
Take part in debates
Write challenging interview questions
Understand the features of explanatory texts
Create, organise, refine, and present ideas using traditional and digital means, combining text, graphics or sound e.g keynote or PowerPoint presentation
Make a short video of their speeches – use peer assessment to edit and improve the video
Planning and redrafting of a final writing piece will also be carried out by the pupils.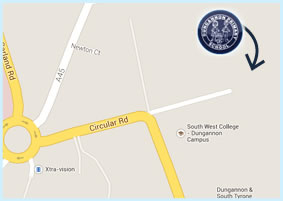 Contact Details
Dungannon Primary School,
Circular Rd,
Dungannon,
County Tyrone,
BT71 6BE
T: 028 8772 2250