First Minister & Education Minister Visit Dungannon Primary
26th Sep 2020
On Wednesday 23rd September 2020 staff and pupils welcomed both the First and Education Ministers to the school. Mr Weir was announcing a new funding package to enable all schools to provide additional teaching support for pupils, particularly those from disadvantaged backgrounds.
Mr Weir and Mrs Foster both took time to visit a number of classrooms and were able to witness the significant changes that have been put in place to ensure staff and pupils at the school are safe and are working hard to mitigate the spread of COVID-19.
Both Ministers were asked a number of challenging questions by our Primary 7 pupils and the pupils enjoyed finding out some interesting facts about the roles and responsibilities of being a public representative.
We would like to thank Mrs Foster and Mr Weir for taking time out of their busy schedule to come and visit our school. We will all continue to work hard to ensure schools remain open and staff and pupils feel safe and protected from COVID-19.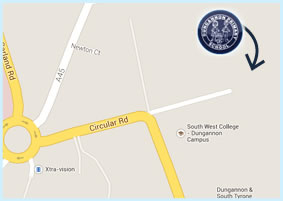 Contact Details
Dungannon Primary School,
Circular Rd,
Dungannon,
County Tyrone,
BT71 6BE
T: 028 8772 2250