York - 30th May - 2nd June 2017
Day 1
Everybody had an early start, having to be at school for 5:15am. We all made it on time (except one!!!). The boat journey across to Scotland was very smooth - Miss Wilson even ventured for a walk outside!
The long journey from Cairnryan to Scarborough. We stopped at Sion Hill Hall Birds of Prey Centre for a flying display. We were introduced to a variety of birds of prey and the children had the opportunity to handle a number of the birds before spending some of their pocket money at the visitor centre!
We travelled onto our hotel and arrived at 7:00pm. After dinner we had a game of ten pin bowling. Mr Thompson had the highest score with Kristers coming second with a score of 123!
We concluded our first day with a short walk along the beach before returning to our hotel. A very long, busy but enjoyable first day!
Day 2
Well, well, well.... after a very early start, and an excellent full English breakfast, we headed off to York. We had a guided tour of York Minster Cathedral and we were presented with lots of interesting facts. It is costing 23 million pounds to have one of the windows repaired!!
We then went to York's Chocolate Story Centre. Here we were told about the history of chocolate making and we got to make our own chocolate lollies. We enjoyed a packed lunch outside, as the weather was absolutely fabulous - Ms Leite even found some time to sunbathe.
After being encouraged to move own from the art gallery garden, we visited the Jorvik Viking Centre before heading to Pizza hut for dinner. Our trip to York ended with a ghost walk around many of the cobbled streets. We all agree that York is a beautiful city and one that must be visited again.
Day 3
The day we were all looking forward to finally arrived - a full day at Flamingo Land!! The sun was shining and we all applied the suncream before commencing the short journey from the hotel to the amusement park. We spent almost 7 hours screaming, laughing, crying and facing our fears on the many different roller coasters and rides. We really want our parents to take us back some day!
After dinner we had one final walk down towards the beach. We were allowed to go into the sea but were told not to go any deeper than our knees. Some of us forgot where our knees stopped!! We had great fun!!
We are now all packed and ready for our homeward journey. We look forward to seeing you all at school at 10:45pm.
Day 3
York 2017
Day 2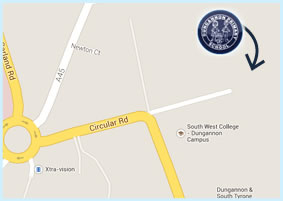 Contact Details
Dungannon Primary School,
Circular Rd,
Dungannon,
County Tyrone,
BT71 6BE
T: 028 8772 2250