Principal's Welcome
Welcome to Dungannon Primary School's Website. Within this site we have provided you with a flavour of what we do. As teachers we pride ourselves in ensuring we meet the individual needs of all the children and are confident that when pupils finish their Primary School career they have been equipped with the necessary skills needed for Post-Primary education as well as being provided with the opportunity to fulfil their full potential.
The children of Dungannon Primary School know that they come to a happy school where academic standards are high and where discipline, hard work and learning go hand in hand with respect, courtesy and kindness for each other.
Thank you for the interest you have shown in our school and I hope you enjoy your visit to our site!
D Thompson
PTFA Disco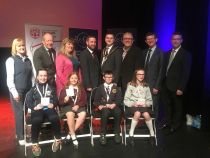 On 17th April 2018, Darragh Quinn took part in the Mid Ulster Eco Speak schools public speaking competition at the Burnavon Theatre, Cookstown. Darragh had to deliver a four minute speech on the topic 'Blue Bin Recycling – What difference does it really make?'. Darragh won his initial heat and got through to the grand final which meant he had to deliver his speech a second time. The judges awarded Darragh first place overall and presented him with a trophy. This is a great achievement by Darragh beating competitors from 21 other schools in the Mid Ulster Area. This is just the culmination of the hard work Dungannon PS has done in promoting and encouraging children to get up onto a stage in front of an audience whether as a choir, choral speaking group or even to take part in a musical performance. The confidence and skills children learn from experiences like this will stay with them the rest of their life.
Events Calendar
Monday, 23rd April 2018
P2 Trip to The Planetarium (9:30am)
Swimming - LSC J/S (9:30am)
Cycling Proficiency (3:00pm)
Tuesday, 24th April 2018
Love for Life - P7 (9:00am)
Swimming - P3 (9:30am)
Wednesday, 25th April 2018
Group photographs (All Day)
Short Tennis (3:00pm)
Thursday, 26th April 2018
P6 Parent Transfer Meeting (4:00pm)
Ulster American Folk Park - P3 Trip (9:15am)
Friday, 27th April 2018
Exceptional Closure - Class Moving Day (P1NH, P2JA, P3PMcK & P4JC ONLY)
Healthy Kidz
Learning and having fun!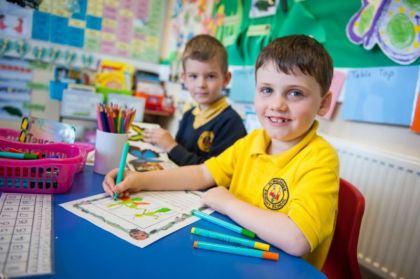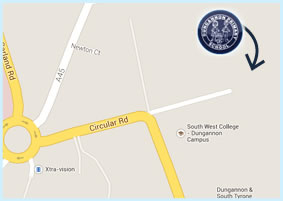 Contact Details
Dungannon Primary School,
Circular Rd,
Dungannon,
County Tyrone,
BT71 6BE
T: 028 8772 2250