Primary 1
Welcome to Mrs Hunter's Primary One!
Numeracy - November - December 2017
In this half term we will be studying:
Number
Sorting coins in the Toy Shop.
Touch count sets to 5.
Reading numbers to 5 and matching numbers to sets.
Writing the numbers to 5 correctly.
Identifying the missing numbers in a sequence.
Order numbers from 0-5 and 5-0.
Measures
Understand and use the language associated with weight.
Understand and use the language associated with capacity.


Shape &Space
Recognise, talk about and use shapes such as square, circle, triangle, rectangle and diamond.
Handling Data
Sort collections of materials for one property.
Mental Maths
Counting forward from one, within five.
Count forward from different starting points.
Making Patterns
Primary One pupil's have been looking at patterns in the world around us. We looked in our playground to see if there were any patterns. We used paper and crayons to record patterns. We have also been making patterns in class with beads, shapes, blocks, lego and sounds.
Star Pupil Awards
Language & Literacy - November - December 2017
Language & Literacy


Talking and Listening
Recounting own experiences.
Talk about what they are learning.
Sharing daily news.
Writing
Writing their name using the correct formation.
Understanding how writing is formed from left to right, a word at a time and how letters are formed.
Reading
Enjoying class library books.
Using pictures to tell a story.
Understand that words can be written down and read again for different purposes.
Phonological Awareness
Discriminate between symbols and letters.
Counting syllables (beats) in words.
Understand and be able to rhyme.
World Around Us - November - December 2017
Our topic this half term is 'Bears'. We will be:
making porridge and sequencing the steps involved in making this.
Looking at real bears both old and new and discussing similarities and differences. Measuring bears.
Discovering the types of real bears that live in cold and warm places.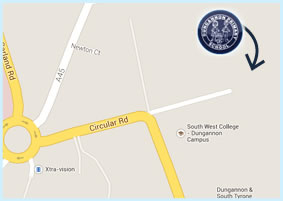 Contact Details
Dungannon Primary School,
Circular Rd,
Dungannon,
County Tyrone,
BT71 6BE
T: 028 8772 2250