Primary 1
Welcome to Mrs Hunter's Primary One!
Numeracy - September - October 2017
In this half term we will be studying:
Number
Look for and talk about patterns in the environment
Understand one to one correspondence e.g. matching one cup to one saucer
Sorting a variety of coins
Making and counting sets
Reading numbers to 3
Writing the numbers to 3 correctly
Measures
Understand and use the language associated with length
Understand and use the language associated with time


Shape &Space
Talk about shapes in their environment
Copy simple patterns
Handling Data
Sort collections of materials and talk about how they have been sorted
Mental Maths
Counting through number rhymes and stories
Making Patterns
Primary One pupil's have been looking at patterns in the world around us. We looked in our playground to see if there were any patterns. We used paper and crayons to record patterns. We have also been making patterns in class with beads, shapes, blocks, lego and sounds.
Star Pupil Awards
Language & Literacy - September - October 2017
Language & Literacy


Talking and Listening
Learning to listen
Taking turns to speak
Asking and answering questions
Writing
Read their name
Holding their pencil correctly
Controlling the pencil along different shapes and lines
Correct use of scissors
Tracing/Writing their name
Reading
Enjoying stories
Talking about stories
Naming the parts of a book e.g. front, back, spine
World Around Us - September - October 2017
Our topic this half term is 'All About Me'.
Naming and labelling parts of the body and face.
Exploring and celebrating how we are all different.
Talking about their personal history from a baby to now.
How to keep healthy.
Talking about where we live.
Naming parts of a house.
Exploring ways of travelling from home to school.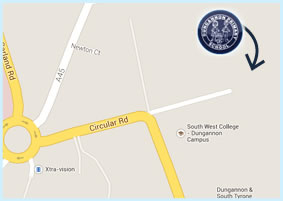 Contact Details
Dungannon Primary School,
Circular Rd,
Dungannon,
County Tyrone,
BT71 6BE
T: 028 8772 2250