LSC Infant
Welcome to Mrs Clayton's and Mrs Kelly's LSC Infant Class.
Numeracy - January - March 2018
Number
Counting forwards and back within 20 and beyond
Touch count, make sets, label sets and order sets of numbers within 20
Counting in 2s forwards within 20
Addition and subtraction within 20
Place value – identifying how many tens/units in a number
Shape &Space
Use everyday language to describe position, direction and movement
Revise 2D shape names and sort
Recognise and describe 3D shapes
Handling Data
Use Tree and Venn diagrams to sort
Contribute to class pictographs and interpret the diagram
Collect understand and interpret data
Measures
Use mathematical language when comparing objects for weight, length, capacity and area.
Develop an understanding of the passing of time through practical activities
Revise days of the week
Literacy - January - March 2018
In this half term we will:
Talking and Listening
Listen to and follow instructions accurately
Speaking clearly and confidently with confidence to the class
Sharing their news to the class
Writing
Develop and use a comfortable and efficient pencil grip
Form letters from the correct starting points
Reading
Continue to enjoy stories including the Bug Club books.
Participate in guided reading sessions and develop visual, meaning and grammar reading strategies
Modelled and guided reading
Phonics:
Hearing and saying sounds in order in words
Building and blending CVC/CVCC/CCVC words
World Around Us - January - March 2018
Our topic in January and February will be 'Jungle Jamboree'
The children will be using the artwork of Henri Rousseau as stimulus for their exploration of jungle plants and animals. We will use fiction and non-fiction books to find out about jungles and we will enjoy a visit from 'Zoo-lab' when we will be able to handle a variety of wild animals! The pupils will complete a technology task creating a little mini 'Elmer' to take home with them.
We will also explore wet and dry materials and carry out some investigations into waterproof materials that we could use in the jungle.
The children will use a variety of musical instruments to recreate the sound of the jungle. They will make a jungle rattle drum. They will compare animal ears with human ears.
ICT
Explore: Participate in individual and shared ICT experiences using websites such as www.bbc.co.uk/cbeebies and Active Inspire and C2K programmes.
Express: Participate in creating a picture on Active Primary. Discuss what is happening in the picture and record using the sound control and recorder buttons. Listen to recordings.
Exchange: Discuss how we communicate with people across the world through the use of phone (calls and messages)
Evaluate: Talk about their work. E.g. talk to the teacher about the picture they created on Active Inspire or their exploration in The Crystal Rainforest.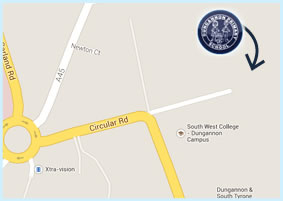 Contact Details
Dungannon Primary School,
Circular Rd,
Dungannon,
County Tyrone,
BT71 6BE
T: 028 8772 2250