LSC C/K
Welcome to Mrs Clayton's and Mrs Kelly's LSC Class.
Please go to your google classroom account for further guidance in relation to your child's work.
Numeracy - November - December 2020
Mathematics & Numeracy – During Term 1 we will be studying:
Understand and use mathematical language when talking about their work. Make predictions and record how a simple investigation is carried out.
Number
Count forwards and backwards in 2's from odd and even numbers within 20.
Know the number "before", "between" and "after" within 20.
Practically subtract an amount from a set, within 20, as "take away", "subtract" or "finding the difference".
Money
Exchange higher value coins (up to 10p) for 1p's.
Calculate change required when buying items from 5p and then from 10p.
Measures
Understand and use analogue time: o'clock and half past.
Understand and use digital time: o'clock and half past.
Shape and Space
Sort and group 3D shapes and mixed sets of 2D and 3D shapes according to their properties.
Use everyday language to describe position, direction and movement.
Handling Data
Use Tree and Venn and Carroll diagrams to sort.
Contribute to class pictographs and interpret the diagram.
Literacy - November - December 2020
Language & Literacy – During Term 1
Talking & Listening
Listen to and follow instructions accurately.
Speak clearly and audibly with confidence to a range of audiences.
Reading (At appropriately differentiated levels)
Participate in guided reading sessions and develop visual, meaning and grammar reading strategies.
Writing (At appropriately differentiated levels)
Recognise full-stops and capital letters when reading and name them correctly.
Use upper case letters and full stops to demarcate sentences
Phonics & Spelling
Linking sounds to letters, sounding the letters of the alphabet.
Hearing and saying sounds in order in words.
Blending sounds to read and write CVC/CVCC/CCVC words.
Handwriting:
Use a comfortable and efficient pencil grip.
Trace/write own name
Write lower case letters using the correct sequence of movements.
World Around Us - November - December 2020
World Around Us (Topic Work) –
This term our topic is Bears
Some of the activities we will be involved in are:
Geography
We are learning that other places can be hotter or colder, wetter or drier
How weather conditions affect people and animals e.g. winter clothing/coats.
History
To recognise and record the sequence of events in simple stories and in personal history e.g. photos and artefacts.
To use simple vocabulary in relation to the passage of time e.g. before/after.
Science and Technology
We are learning to recognise that there is a variety of materials including how they look, feel, taste, sound and smell
We are learning about animals and their young.
We are learning to respect and care for the world we live in.
We are learning that different seasons affect us in a variety of ways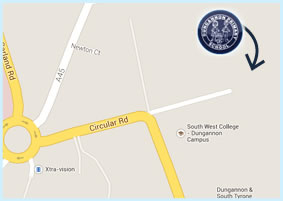 Contact Details
Dungannon Primary School,
Circular Rd,
Dungannon,
County Tyrone,
BT71 6BE
T: 028 8772 2250