LSC ASC
Welcome to Mrs Millington's ASC Class!
Numeracy - April - June 2019
Mathematics & Numeracy – During Term 3
We will be learning to:
Number
Carry out shopping activities calculating totals and change within £10.
Add / subtract 3-digit numbers with and without exchange.
Have fast recall of 3x and 4x multiplication and division tables.
Solve a range of worded problems.
Data Handling
Read simple pie charts and bar graphs.
Measures:
Estimate and measure the weight of lighter objects in multiples of 100 grams.
Estimate, measure the capacity of smaller containers in multiples of 100 ml.
Discuss how to measure the capacity of containers more accurately – use litres & ml.
Find the area of shapes by counting squares and half squares.
Understand and use 5 minute intervals past and to the hour
Calculate start, finish times, durations & how long until
Shape & Space:
Identify which 2D shapes will tessellate and which will not.
Identify angles in 2D shapes which are greater than or less than a right angle.
Literacy - April - June 2019
Language & Literacy – During Term 3
We will be learning to:
Grammar & Punctuation:
Use commas to separate items in a list.
Identify pronouns and understand their function in sentences
Identify collective nouns and understand their function
Phonics/ Spelling:
Form plurals of nouns ending in"v"
understanding of the spelling and meaning of suffixes, e.g. er, est and –ful.
Continue to extend our knowledge the same phoneme (sound) can be represented in a variety of ways.
Writing Genres to include:
Non-fiction
Myths
Poetry
Pupils will explore the main features of each genre and will compose their own versions.
World Around Us - April - June 2019
World Around Us -
Our topic in May and June will be 'Peter Rabbit's Adventure!'
Geography
To identify the main features of home and school (P)
To use language to identify position relative to other objects or places (P)
To design and make models of real or imaginary places (P)
To follow and to give simple directions to places in the immediate environment (P)
History
To recognise and record the sequence of events in simple stories and in personal history e.g. photos and artefacts (COT)
To identify how we change at different ages (I, COT)
To find out about their own and other people's history (COT)
To use simple vocabulary in relation to the passage of time e.g. before/after (COT)
Science and Technology
The names and functions of external body parts (I)
To recognise that there is a wide variety of animals and plants (I,P)
To respect and care for the world we live in (I, P)
To be aware of the range of wasted materials in and around our own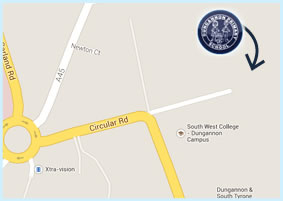 Contact Details
Dungannon Primary School,
Circular Rd,
Dungannon,
County Tyrone,
BT71 6BE
T: 028 8772 2250