LSC ASC
Welcome to Mrs Millington's ASC Class!
Numeracy - November - December 2017
Understand and use mathematical language when talking about their work. Make predictions and record how a simple investigation is carried out.
Number
Recognise spoken numbers within 50.
Read numbers within 50.
Write numbers within 50.
Money
Calculate change required when buying items, paying with amounts up to 20p.
Measures
Understand that capacity is a measure of how much a container can hold when full.
Estimate and measure capacity using non-standard units.
Shape and Space
Recognise and use the mathematical names for 3D shapes- cube, cuboid, sphere, cylinder, cone.
Recognise line drawings representing 3D shapes.
Recognise and use mathematical names for increasing range of 2D shapes: Pentagon, Hexagon.
Literacy - November - December 2017
In this half term we will:
Talking and Listening
Use spoken and written language in their play and other experiences.
Listen with sustained concentration to other children and adults.
Reading
Read familiar, simple stories independently.
Know and understand the terms 'story', 'character' and 'setting'.
Sentence Construction & Punctuation:
Begin to use the term 'sentence' to identify sentences in a text.
Use upper case letters and full stops to demarcate sentences
Phonics & Spelling:
Linking sounds to letters, sounding the letters of the alphabet.
Hearing and saying sounds in order in words.
Blending sounds to read and write CCVC & CVCC words.
Handwriting:
Use a comfortable and efficient pencil grip.
Write lower case letters using the correct sequence of movements.
World Around Us - November - December 2017
Our topic in November and December will be 'Fairies, Frost and Father Christmas'. We will be finding out about our teeth and visit our local dentist to find out how to keep a happy, healthy smile. We will investigate how some food and drink affects our teeth. We will play in our dentist surgery in our classroom. We will find out about the tooth fairy, explore fairy lands through stories and imaginative play and we will make a fairy door out of clay. We will do quite a lot of practical science investigating freezing and melting and linking this to winter weather, clothing and animal behaviour. Finally we will look at Father Christmas and some of the lovely traditions we celebrate together during the festive season.
ICT
Explore: Move Bee-Bot with purpose. Use forwards, backwards and clear memory commands.
Express: Participate in a whole class Christmas song. Song will be recorded using a camera or microphones for school website.
Exchange: Use the phones to call a patient and partake in a short discussion during role play.
Evaluate: Children will watch or listen to their song. They will talk to their teacher about it.
Exhibit: Save work. Children can print work using the print icon.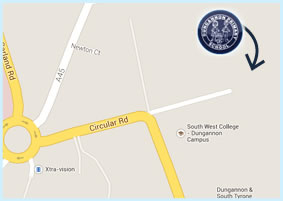 Contact Details
Dungannon Primary School,
Circular Rd,
Dungannon,
County Tyrone,
BT71 6BE
T: 028 8772 2250