DPS Out of School Club
At Dungannon Primary School we offer an After Schools Child Care Facility from 2.00 pm to 6.00 pm. Providing flexibility for parents, our hourly rates enables the parents to book their child in for the times that are most suitable for them. Details of rates may be obtained by contacting a member of the Out of School Club Staff.
DPS Out of School Club, which is run by fully qualified staff, is registered with Armagh & Dungannon Health & Social Services Trust and is inspected yearly. DPS Out of School Club is also a member of Playboard Northern Ireland which is an organisation that promotes children's right to play.
DPS Out of School Club offers a flexible service for parent of Dungannon Primary School for children aged 4 years 2 months up to 12 years of age and can cater for 30 children. Depending on the interest, the service can be extended to cover holiday periods.
This service provides children with a fun and non-school like environment in which they can benefit from a wide range of activities in a safe and enjoyable environment including:
Cookery
Computer Suite
Sports
Football
Adventure Trail
Library
Team Games
Art & craft and much, much more.
DPS Out of School Club - Policies
Have a look at what we get up to at DPS Out of School Club
Dungannon Day care 1
Dungannon Day care 16
Dungannon Day care 15
Dungannon Day care 14
Dungannon Day care 13
Dungannon Day care 12
Dungannon Day care 11
Dungannon Day care 10
Dungannon Day care 8
Dungannon Day care 7
Dungannon Day care 6
Dungannon Day care 5
Dungannon Day care 4
Dungannon Day care 3
Dungannon Day care 2
Dungannon Day care 17
DPS Out of School Club - Policies
DPS Out of School Club - Policies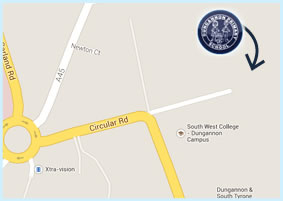 Contact Details
Dungannon Primary School,
Circular Rd,
Dungannon,
County Tyrone,
BT71 6BE
T: 028 8772 2250