Primary Five
Welcome to Mrs Alexander's Primary Five Class!
Literacy - September - October 2017
In this half term we will be studying:
Writing Units
Fiction:
Know and understand the term 'historical' in relation to story.
Compare the contrast poems on similar themes.
Know about significant authors and poets and express preference.
Non-Fiction:
Understand the different organisational features and purposes of a range of non-fiction texts.
Distinguish between the terms 'fact' and 'opinion.'
Prepare non-fiction text.
Sentence Level Work
Revise nouns and adjectives.
Compare adjectives on a scale of intensity.
Understand how the apostrophe is used to show possession.
Explore conjunctions in sentences.
Word Level
Explore alternative words for 'nice'.
Understand gender words e.g. king/queen, fox/vixen
Understand that vocabulary changes over time e.g. frock, wireless etc.
Extend understanding of prefixes.
Numeracy - September - October 2017
Number
Count forward and backwards in 1s,2s,5s and 10s within 9999.
Recognise spoken fractions.
Read fractions, identifying numerator and denominator.
Write fractions, identifying numerator and denominator.
Mentally add 3 single digit numbers.
Know near doubles with 20.
Use knowledge of place value to develop a standard written method for vertical subtraction.
Solve addition and subtraction problems.
Understand the 3 times tables as repeated addition and arrays.
Understand the 4 times tables as repeated addition and arrays.
Mentally subtract any number from 20.
Understand the relationship between all coins and notes
Calculate change required when buying items, paying with amounts up to £100.
Use one operation function machines to reinforce quick recall of addition, multiplication and division facts.
Solve a range of multiplication and division problems using known facts and selecting the operation required.
Measures
Estimate, measure and record lengths in cm and m.
Use analogue and digital clock times to 5 minutes.
Know the number of days in each month and use to calculate across a month.
Shape &Space
Identify 3D shapes from 2D drawings.
Sort, name and recognise 2D shapes.
Understand that coordinates can be used to identify a point rather than a whole square.
Identify right angles.
World Around Us - September - October 2017
These are some of the activities we will be involved in.
Exploring the similarities and differences between places.
Learning about plants in a chosen habitat.
How the landscape differs from place to place.
Lifecycles of people from the past.
How place impacted upon the lives and lifestyle of people from the past.
How people used to live.
About the life cycle of some plants.
How some living things can change in order to adapt and survive in their environment.
How variations in places affect the growth of plants.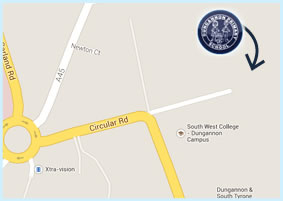 Contact Details
Dungannon Primary School,
Circular Rd,
Dungannon,
County Tyrone,
BT71 6BE
T: 028 8772 2250