Primary Five SA
Welcome to Mrs Alexander's Primary Five Class!
Please go to your google classroom account for further guidance in relation to your child's work.
Numeracy - November - December 2020
Mathematics & Numeracy – In this half term we will be studying:
Number
Consolidate 3 and 4 times tables.
Using knowledge of 2, 3, 4, 5 and 10 times tables to derive corresponding division facts. Solve a range of multiplication and division problems.
From 3 given numbers, derive 2 multiplication and 2 division facts.
Mentally add 3 single digit numbers
Mentally find doubles of 10 up to double 100 and corresponding halves.
Mentally find doubles of 100 up to double 500 and corresponding halves.
Mentally find doubles of multiples of 5 up to double 95 and corresponding halves.
Mentally find what must be added to any 2 digit number to make 100.
Use function machines.
Understand and use decimal recording of amounts of money up to £100.
Calculate change within £100.
Recognise spoken fractions. Read and write fractions identifying numerator and denominator.
Measures
Use analogue and digital clock times to 5 minutes.
Calculate what time it was or will be e.g. It is twenty five past nine. What time was it 20 minutes ago?
Know the number of days in each month and use to calculate durations across a month.
Estimate, measure and record lengths in cm/m.
Understand concept of perimeter
Explore square cm and estimate and measure areas using the square cm as a standard unit.
Shape & Space
use terms 'acute', 'right', and 'obtuse' to categorise angles.
Understand that coordinates can be used to identify a point rather than a whole square.
Handling Data
Use ICT software to represent date in a variety of ways and decide which is the most appropriate, giving reasons for choice.
Processes
Explore a range of problem solving strategies.
Organise own work and work systematically. Talk about how they carried out a task.
Literacy - November - December 2020
Language & Literacy – In this half term we will be studying:
Writing Units
Talking and Listening
Speak clearly and coherently to a range of audiences for a variety of purposes.
Use and explore different question types – to clarify, to plan and to set goals.
Use and reflect on some ground rules for sustaining talk and interactions.
Reading (At appropriately differentiated levels)
Know and understand the term 'historical' in relation to story.
Understand how the fiction genre determines settings and characters.
Know how to analyse character and setting by studying the language used.
Know and understand the features and purposes of instructional texts including:
the intended outcome at the beginning
materials or ingredients
sequential stages
language of commands.
Writing (At appropriately differentiated levels)
Talk about and plan writing.
Use different ways to plan e.g. brainstorming/notes/diagrams.
Write character sketches, focusing on small details to evoke sympathy or dislike.
Begin to use paragraphs in story writing to organise and sequence the narrative into clear chronological stages.
Write clear instructions using conventions learned from reading.
Improve the cohesion of written instructions and directions through the use of link phrases and organisational devices such as sub-heading and numbering.
World Around Us - November - December 2020
World Around Us (Topic Work) -
Our World Around Us activities are based around Life Process and Living Things: Plants
These are some of the activities we will be involved in.
Examining plants using magnifying glasses.
Labelling a plant.
Looking at the life cycle of a plant.
Grow and nurture our own herbs just like the Tudors did.
Experiment to find out what plants need to grow – fair testing.
Experiment to find out if a plant will grow towards the light.
Experiment to discover what liquids help seeds grow.
Make a self-watering planter.
Experiment to make rainbow roses.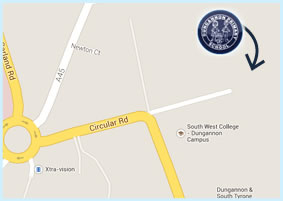 Contact Details
Dungannon Primary School,
Circular Rd,
Dungannon,
County Tyrone,
BT71 6BE
T: 028 8772 2250