Primary 6 RH
Welcome to Miss Hall's Primary Six Class!
Please go to your google classroom account for further guidance in relation to your child's work.
Literacy - September - October 2020
Language & Literacy – During Term 1
Talking & Listening
Speak clearly and coherently
Identify some aspects of talk which vary between formal and informal occasions
Explain and justify methods, opinions and conclusions.
Reading (At appropriately differentiated levels)
Engage in guided and shared reading sessions using both fiction & non-fiction texts.
Develop our literal and inference reading comprehension skills.
Writing (At appropriately differentiated levels)
Grammar & Punctuation
Nouns (pluralisation), Verbs (past, present and future) and adverbs (to qualify dialogue verbs)
Exploring synonyms and shades of meaning
The difference between direct and reported speech
Writing
Understand and evaluate a range of instructional texts.
Write instructional texts and test them out.
Writing a new scene for an existing playscript
Planning, writing, editing and evaluating a playscript for a particular audience
Numeracy - September - October 2020
Mathematics & Numeracy – During Term 1 we will be studying:
Number
Place Value of numbers within 99,999- Reading and writing numbers, demonstrating the value of numbers, knowing the number before, after and between numbers.
Understand what a mixed number fraction is.
Quick recall of multiplication and division facts.
Written addition, subtraction, multiplication and division.
Measures
Calculating perimeter
Changing 12hr time to 24hr time.
Handling Data
Collect, organise and present data.
Shape and Space
2D shape – sort, name, recognise and describe a range of 2D shapes
Recognise acute, obtuse and right angles.
Recognise and name different lines.
Mental Maths
Revision of components of 20
Doubles and halves within 50
Mental addition and subtraction of 2digit numbers.
Quick recall of multiplication and division facts.
World Around Us - September - October 2020
World Around Us (Topic Work) –
This term our topic is The Vikings.
Some of the activities we will be involved in are:
Find out where the Vikings came from.
Compare and contrast how Vikings lived then and how we do now.
Explore the role of men, women and children.
Research how Vikings travelled and design a Viking longboat.
Complete scientific investigations exploring why the Vikings left their homelands.
Identify reasons for raiding or settling.
Explore Viking alphabet and write messages using Runes.
Investigate Viking beliefs and Gods.
Using ICT
Express: Create an information sheet including picture and labels.
Exchange: Post comments about learning about Vikings on Google Classroom.
Exhibit: Save work using an appropriate file name.
Evaluate: Discuss ICT work with teacher. Talk about any improvements or changes that could have been made.
Explore: Carry out online research on Vikings.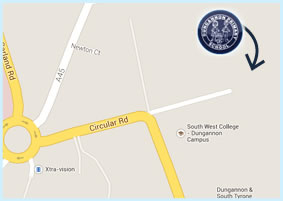 Contact Details
Dungannon Primary School,
Circular Rd,
Dungannon,
County Tyrone,
BT71 6BE
T: 028 8772 2250