Primary 3
Welcome to Mrs McKane's Primary Three Class!
Language & Literacy - April - June 2019
Language & Literacy – During Term 3
We will be studying:
Talking & Listening
Developing active listening skills in all areas of learning.
Expressing thoughts, feelings and opinions in response to stories by significant authors.
Retelling stories orally.
Reading (At appropriately differentiated levels)
Reading with intonation and expression appropriate to the grammar and punctuation.
Recognising and read HFW quickly in context
Developing comprehension skills – literal and inferential (including prediction).
Understanding the terms author and illustrator.
Being able to distinguish between fiction and non-fiction.
Writing (At appropriately differentiated levels)
Spelling: segmenting and blending phonemes to build words, working on the concepts that: two letters can show one sound.
Identify nouns and verbs in simple sentences.
We will continue to work on developing sentence structure and punctuation.
Begin to Check work for simple punctuation, grammatical and spelling errors
Examples of writing tasks will include:
Non chronological reports about minibeasts.
Explanations linked to the lifecycle of a butterfly
Planning and writing their own stories.
World Around Us - April - June 2019
World Around Us -
Our topic this half term is "Mini-beasts" This topic will have cross curricular links to Geography, Science, History, Art, Literacy, Music, P.E and Numeracy.
Some of the activities we will be involved in are:
Identifying and naming mini-beasts.
Exploring habitats in the school grounds to locate and observe mini-beasts. Going on a mini-beast hunt.
Create a graph to record the type and number of mini-beasts found in the school grounds.
Using digital cameras to photograph habitats and mini-beasts.
Researching and creating fact files on different mini-beasts.
Observing mini-beasts and making our own drawings.
Finding out about the lifecycle of a butterfly.
Observing the growth and changes from a caterpillar to a butterfly.
Creating symmetrical butterflies.
Designing our own mini-beasts using clay.
'Tommy's Story'. P3 Visit to The Argory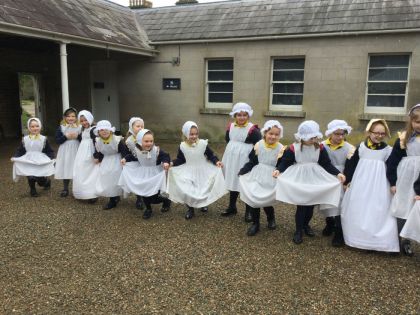 Numeracy - April - June 2019
Mathematics & Numeracy – During Term 3
We will be learning to:
Number
Count forwards and backwards in 10 and 5 within 100.
Understand concepts of odd and even numbers.
Understand that the value of a digit depends on its position within a number.
Understand the concept of grouping and exchanging.
Vertical addition and subtraction (no exchange).
Find different ways of paying exact amounts within 50p, e.g. using the least number of coins.
Calculate change required when buying items, paying with amounts up to 50p.
Ways of spending fixed budgets up to 50p.
Data Handling
Sorting results on blank Tree, Venn and Carroll Diagrams.
Measures:
Carry out practical investigations using length, weight, capacity and area.
Shape & Space:
Create repeating patterns using 2D and 3D Shapes
Create commands to program and move Beebot
Mental Maths
Add and subtract 10 to any number within 50.
Add and subtract multiple of 10 to a multiple of 10.
Add and subtract multiple of 10 to any number.
Addition facts within 10.
Working Together During Activity-based Learning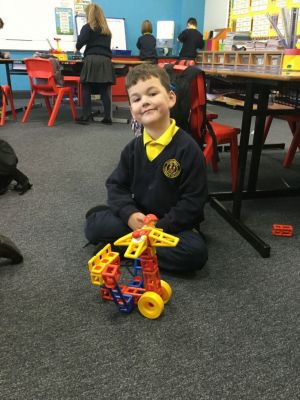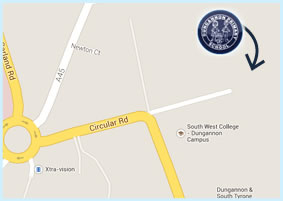 Contact Details
Dungannon Primary School,
Circular Rd,
Dungannon,
County Tyrone,
BT71 6BE
T: 028 8772 2250