Primary 3 NH
Welcome to Mrs Hunter's Primary Three Class!
Please go to your google classroom account for further guidance in relation to your child's work.
This page is currently being updated.
Numeracy - November - December 2020
Mathematics & Numeracy – During November & December we will be studying:
Number
Reading, writing and ordering numbers within 50
Demonstrating the value of numbers in terms of tens and units
Ordering numbers
Using ordinal terms to 10th place.
Working on the understanding of the language of addition and subtraction
Working on the understanding that addition and subtraction are inverse operations
Problem solving (including money) involving the operations of addition and subtraction
Money – coin recognition, different ways to make amounts, calculating change within 20p.
Measures
Estimating and measuring length, weight and area using non-standard units.
Recognising and recording (in analogue form) o'clock, half past and quarter past times. Introduction to digital times (o'clock, half past and quarter past)
Handling Data
Sorting for two criteria using Tree, Venn and Carroll diagrams
Shape and Space
Recognise and use the mathematical names for 3D shapes and properties
Mental Maths
Working on quick recall of addition and subtraction facts for the numbers 1-10
Mentally adding and subtracting 0,1, 2 or 3 from numbers within 50
Literacy - November - December 2020
Language & Literacy – During November & December we will be studying:
TALKING & LISTENING
Developing active listening skills in all areas of learning
Taking turns at talking & listening during group tasks
Listening to a story, remembering specific points and responding by linking to own experiences
READING (At appropriately differentiated levels)
Identifying punctuation when reading
Use punctuation to work on developing expressive reading
Recognising and reading HFW quickly in context
Reading for meaning
WRITING (At appropriately differentiated levels)
We will continue to work on correct letter formation, sizing and spacing, including writing on lines.
Spelling: segmenting and blending phonemes to build words, working on the concepts that:
two letters can show one sound
there can be more than one way to show a sound
We will be working on developing sentence structure and punctuation. This will include focusing on:

Understanding that a sentence must make sense
Use of capital letters to begin sentences
Other uses of capital letters eg names, places
Considering different words to begin sentences
Use of 'time language' words
Writing simple instructions using time words.
Writing simple explanations linked to the lifecycle of a penguin.
World Around Us - November - December 2020
World Around Us (Topic Work) -
Our topic this half term is 'Cold Lands'. Some of the activities we will be involved in are:
Locating cold lands on a map.
Identifying differences between the Polar Regions and our own country.
Researching facts about polar lands and animals.
Sequence the life cycle of a penguin.
Make a polar animal with moving parts.
Create fact files about polar lands.
Experiment with ice and make observations.
Art activities linked to winter and polar lands.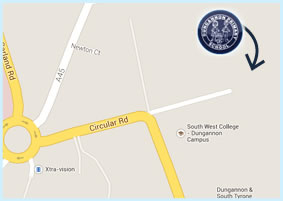 Contact Details
Dungannon Primary School,
Circular Rd,
Dungannon,
County Tyrone,
BT71 6BE
T: 028 8772 2250