Spring term - January 2022
Monday 3rd January 2022
Dear All,
Happy New Year!
May I remind everyone who has agreed to engage in Lateral Flow Testing to take a lateral flow test before coming to work tomorrow.
The beginning of the Spring-term will undoubtedly bring may challenges as we continue to live with COVID-19. Please continue to remain vigilant and follow the preventative measures already in place:
Wear a face covering – you must wear one if you are unable to maintain a 2m distance from others
A maximum of 5 people in the staffroom at any one time
Avoid entering Mrs Hagan's & Mrs Gilpin's Office unless you need to contact a parent
Staff should avoid unnecessary journeys around the school and should avoid unnecessary contact with children within different bubbles.
If car sharing with another colleague, face coverings must be worn for the complete duration of the journey. If you observe someone not adhering this advice it is equally your responsibility to politely remind them of the rules.
Please ensure all rooms are well ventilated during the school day. Some rooms now have CO2 monitors fitted – you must open your classroom windows and allow further air in if the monitor is displaying an amber or red colour
The Omicron variant has a very high transmission rate – we must adhere to the above measures to mitigate the spread within the school environment
New Covered Area
A new covered area has been erected in the Infant Playground. I expect to see staff and pupils using this area everyday as this cost almost £15,000.00.
Changes to Self-isolation
Cases will now be able to end isolation after seven days instead of ten provided they have negative lateral flow results on day six and day seven, with tests taken 24 hours apart. The first test must be taken no earlier than day six of the self-isolation period. If the lateral flow tests are positive individuals must continue to isolate for the full 10 days.
The Public Health Agency has put in place new PCR testing protocols to help protect the testing system in Northern Ireland and ensure availability of testing for those who need it.
Fully-vaccinated* close contacts of a positive case will no longer be required to take a PCR test. They are instead advised to take a lateral flow device (LFD) test as soon as possible and continue to take daily lateral flow tests until the tenth day after the last date of contact with the positive case.
If an LFD turns positive at any time during the 10 days, they should arrange a PCR test. Unvaccinated people will have to continue to self-isolate for 10 days as before.
It is no longer necessary for children under five years of age to take a PCR test – even if they have symptoms like a cough or temperature – unless advised to do so by their doctor. If they develop symptoms, parents are encouraged to carry out a lateral flow test on them. If this is positive they should, if possible, book a PCR test for them.
*Fully-vaccinated people are those who have had at least two doses of an approved COVID-19 vaccine, with the second dose at least 14 days ago.
Remote Learning
We all acknowledge that children work best when at school. We have also been warned that staff shortages may mean some classes will have to be taught remotely.
Please ensure you have work ready to be uploaded onto Google Classroom if required. 5 days worth of work will be adequate.
If a teacher tests positive with COVID-19 and we are unable to employ a substitute teacher, the class will be required to engage in remote learning.
Miss Wilson, Miss Campbell or I will ensure the work you planned is uploaded and will monitor pupil engagement.
If a Classroom Assistant tests positive with COVID-19 we will work hard to ensure appropriate cover is available – if this cannot be achieved, individual classes will be required to engage in remote learning.
Staff will be expected to work from school when supporting pupils engaged in remote learning.
Integration and After School Clubs
Unfortunately we will be unable to allow LSC classes to integrate with mainstream classes at this time. This will be reviewed at the end of January 2022.
Mainstream classes are not permitted to integrate at this time. This will be reviewed at the end of January 2022.
After School Clubs will begin in February 2022.
Let's continue to work together and support one another during what may well be a challenging but undoubtedly rewarding term.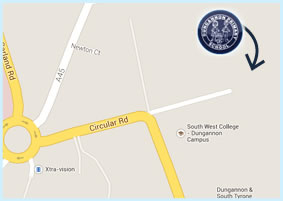 Contact Details
Dungannon Primary School,
Circular Rd,
Dungannon,
County Tyrone,
BT71 6BE
T: 028 8772 2250