LSC J/S
Welcome to Mrs Wharton's LSC JS Class.
Literacy - April - June 2019
Language & Literacy – In this term we will be studying:
GRAMMAR
Understand and use the term 'adjective' appropriately
Identify adjectives in different texts.
WRITING
Understand that letters are written for a range of purposes.
Become familiar with the layout of a letter.
Use adjectives to make sentences more exciting.
SPELLINGS AND PHONICS
Know and understand that the same phoneme can be represented in more than one way.
Identify and categorise the most common representations of the same sound eg boat, no, tow, note.
Be able to spell an increasing number of commonly used High Frequency words independently.
READING
Increase reading accuracy and fluency.
Promote use of expression when reading.
Locate information in a text in order to answer questions.Identifying the main points in a short text
Accelerated Reading and Bugclub texts
World Around Us - April - June 2019
World Around Us (Topic Work) -
Our topic this term is 'Our Town Dungannon"
As the topic develops the children will have the opportunity to develop their Geography, Science and ICT skills through investigation of the following areas:
Exploring the main features of the local area
To represent simple journeys on a map to and from local areas
Identify differences between the past and present
Identify some things that have stayed the same and some things that have changed
That we are responsible for looking after our world
The Blue Planet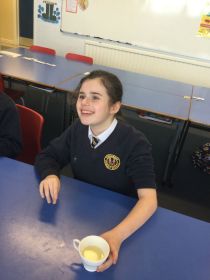 Our topic this term is "The Blue Planet" where we are focussing on different aspects of water.
We made tea and coffee to observe how water changes from a liquid to a gas. We also looked at Monet's water lily picture and create our own pond collages.
Currently we are working very hard at preparing our song "Mr Blue Sky" for Dungannon Musical Festival.
Numeracy - April - June 2019
Mathematics & Numeracy – In this term we will be studying:
Number
Use a standard written method for vertical addition and subtraction using TU/Th H T U numbers
Rounding numbers to the nearest 10/100
Measures
Estimate and measure using 1kg/half kg and 1 kg and grams
Estimate and measure using 1 litre/half litres, litres and half litres and millilitres
Mental Maths
Develop quick recall of x2 x5 x10 multiplication tables
Counting on and back in 2's, 5's and 10's using numbers to 100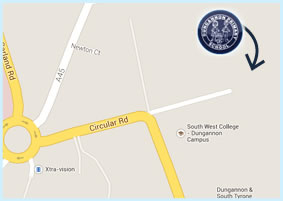 Contact Details
Dungannon Primary School,
Circular Rd,
Dungannon,
County Tyrone,
BT71 6BE
T: 028 8772 2250