LSC J/S
Welcome to Mrs Nesbitt's LSC JS Class
Literacy - September - October 2017
In this term we will be studying:
GRAMMAR
Using basic punctuation in a sentence – consistently remembering to use capital letters and full stops.
Recognise and use verbs, nouns, adverbs and adjectives.
Understand the difference between past and present tense.
WRITING
Talk about, plan and record sentences based on books read, topic work or personal interest.
To read over their work to check if it makes sense and to correct their mistakes.
Spellings and Phonics
Know and understand that the same phoneme can be represented in more than one way.
Identify and categorise the most common representations of the same sound eg boat, no, tow, note.
Be able to spell an increasing number of commonly used High Frequency words independently.
Reading
Increase reading accuracy and fluency.
Promote use of expression when reading.
Encourage children to talk about what they have read.
Locate information in a text in order to answer questions.
Make use of Bug Club and/or Accelerated readers.
Numeracy - September - October 2017
In this term we will be studying:
Number
Written methods for addition/subtraction involving single digits/two digit /3 digit numbers with and without exchange.
Introduction to multiplication and division.
Money – coin recognition, different ways to make amounts, working out amounts for change, problem solving by selecting required mathematical operations.
Measures
Calendar work using days of the week and months of the year.
Recognise and use metres and centimetres when measuring length.
Read and set a variety of times on the clock in both digital and analogue format.
Shape &Space
2D & 3D shape – sort, name, recognise and describe a range of 2D and 3D shapes
Handling Data
Make a tally and use information to make a bar chart.
Be able to talk about their results.
Mental Maths
Show quick recall of the components of 10 and 20
Counting forwards and backwards in steps of 2/5/10
Add and subtract 2/5/10 from numbers within 30/50/100/999
Have accurate recall of times tables x and ÷ 2 x5 x10
World Around Us - September - October 2017
Birds
Geography
Observe and record weather daily using symbols (COT)
Observe seasonal changes in the landscape (COT)
History ( A Sense of the Past/ An Awareness of Evidence/ An Awareness of Time
Investigate the impact of an invention on people's lives eg aeroplanes (M & E, COT)
Science and Technology
To know about some animals including how they grow, move and use their senses.
Be able to name and identify specific characteristics of some birds
Know that we are responsible for caring for our environmentWe will be observing the birds that visit our playground and compiling a fact file about the birds we see. The children will have the opportunity to make bird feeders and to make bird food to put in the feeders.
We will be finding out about the first aeroplanes and the history of flight. The children will listen and read stories about birds and in Numeracy they will have the opportunity to engage in Data Handling when making a tally and recording this information.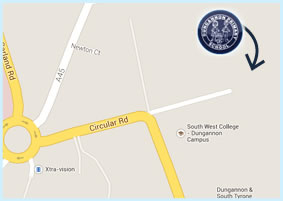 Contact Details
Dungannon Primary School,
Circular Rd,
Dungannon,
County Tyrone,
BT71 6BE
T: 028 8772 2250