LSC W
Welcome to Mrs Wharton's LSC Class.
Please go to your google classroom account for further guidance in relation to your child's work.
Literacy - November - December 2020
Language & Literacy – In this term we will be studying:
GRAMMAR
Use basic punctuation in a sentence – consistently remembering to use capital letters and full stops.
Continue work on common homophones (there/their/they're; where/were/wear).
WRITING
Use poems as models for own writing
To read over their work to check if it makes sense and to correct their mistakes.
Think about spacing between words and size of letters.
Spellings and Phonics
Know and understand that the same phoneme can be represented in more than one way.
Identify and categorise the most common representations of the same sound eg boat, no, tow, note.
Be able to spell an increasing number of commonly used High Frequency words independently.
Reading
Increase reading accuracy and fluency.
Promote use of expression when reading.
Encourage children to talk about what they have read.
Locate information in a text in order to answer questions.
Make use of Bug Club and/or Accelerated readers.
Participate in reading poetry aloud
Numeracy - November - December 2020
Mathematics & Numeracy – In this term we will be studying:
Number
Reading, writing, ordering numbers to 100/9999
Place value of numbers within 100/9999
Written methods for addition/subtraction involving 2 digit /4 digit numbers with and without exchange.
Measures
Calendar work using days of the week and months of the year.
Estimate & measure area using non-standard/standard measures
Calculate durations involving hour, quarter past and half past start and finish times.
Handling Data
Make a tally and use information to make a pictogram and bar chart.
Be able to talk about their results.
Mental Maths
Doubling & halving multiples of 5
Counting forwards and backwards in steps of 10 up to 100 from different starting numbers
World Around Us - November - December 2020
World Around Us - Mighty Me
Geography
· Understand that there are goods and services which are important to our community History ( A Sense of the Past/ An Awareness of Evidence/ An Awareness of Time
· Investigate the impact of an invention on people's lives.
· Find out about famous people from the past.
Science and Technology
· To know that personal hygiene is important to keep healthy.
· To investigate the function of the skeleton Activities
· Personal Hygiene: importance of washing our hands and keeping our body clean.
· Practical activities: how do germs spread? What is best for washing our hands? Why do we have a bony skeleton?
· Make predictions and carry out fair tests
· Look at x-rays and a model skeleton.
· Discuss the invention of penicillin.
· Explore how hospitals have changed in the past 100 years and the story of Florence Nightingale.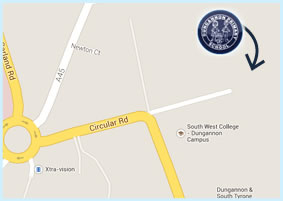 Contact Details
Dungannon Primary School,
Circular Rd,
Dungannon,
County Tyrone,
BT71 6BE
T: 028 8772 2250