Primary 3/4 LMcN
Welcome to Miss McNiece's P3/4 class.
Numeracy - September - October 2019
Mathematics & Numeracy – During Term 1 we will be studying:
Number
Number work within 50 – reading, writing, sequencing and ordering (If appropriate up to 100).
Counting forwards and backwards in ones within 50 from different starting numbers (If appropriate up to 100)
Odd and even numbers within 20.
Addition and subtraction with/without a number line.
Money – coin recognition, different ways to make amounts.
Measures
Using parts of the body to estimate and measure length.
Estimating and measuring length, weight and area using non-standard units.
Revise o'clock and half past using analogue and digital time.
Shape &Space
Recognising and using the mathematical names for a range of 2D shapes.
Use 2 criteria diagrams to sort and group 2D shapes.
Handling Data
Collecting information and recording it in a table and displaying information in a pictogram.
Mental Maths
Working on quick recall of addition and subtraction number facts for each of the numbers up to 10.
World Around Us - October - November 2019
World Around Us (Topic Work)
Our topic this half term is 'Happy Healthy Bodies'. The children will not only be developing knowledge and skills in various area of the curriculum but will also be learning how to keep healthy.
Some of the activities we will be involved in include:
Feely bag senses tasks
Senses scavenger hunt (outdoor garden)
Labelling body parts
Learning action songs involving body parts (exercise)
Keeping a food diary at home
Finding out about healthy food
Designing a healthy lunchbox
Making fresh fruit salad
Fruit and vegetable art work
Pupils working hard in P3/4!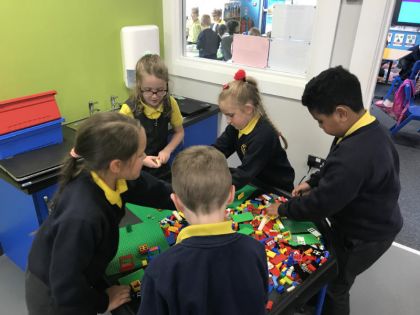 Literacy - September - October 2019
Language & Literacy – During Term 1
TALKING & LISTENING
Developing active listening skills.
Sharing as a class and in groups, ideas and experiences.
READING (At appropriately differentiated levels)
Recognising and reading high frequency words quickly in context.
Reading for meaning – answering questions on the text.
Developing phrasing and fluency.
WRITING (At appropriately differentiated levels)
Punctuation and Grammar:
Revise the need to demarcate the end of a sentence with a full stop, and the start of a sentence with a capital letter
Investigate question and exclamation marks for reading and writing
Phonics and Spelling:
Revise High Frequency words as well as CVC/CVCC words
Handwriting:
Revise letter formation (a-z) of all lower and upper case letters using the Nelson script
Writing:
Writing simple sentences.
Writing simple sentences using command verbs.
Use time language.
Writing simple instructions using command verbs.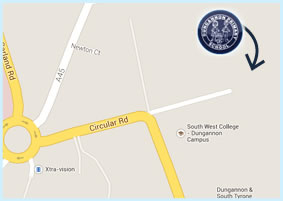 Contact Details
Dungannon Primary School,
Circular Rd,
Dungannon,
County Tyrone,
BT71 6BE
T: 028 8772 2250