Primary 7 CK
Welcome to Mrs Kennedy's Primary Seven Class!
Numeracy - September - October 2017
In this half term we will be studying:
Number
Number work up to and above 1 million – sequencing, ordering, reading, writing, patterns and finding the value of a given digit
Rounding to estimate answers to addition and subtraction calculations
Written methods for addition/subtraction
Multiply by a 2 digit numbers
Fractions – recognise equivalence and simplify fractions
Decimals – read and write numbers to 2 decimal points
Add and Subtract decimal numbers
Measures
Length – mm, cm, m and km
Finding area and perimeters of regular and irregular shapes
Shape &Space
2D shape – quadrilaterals – be able to recognise names and properties
Mental Maths
revision of all times tables
square and prime numbers
Making 100, 1000
World Around Us Activities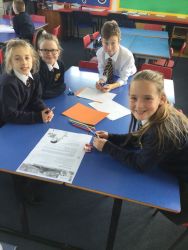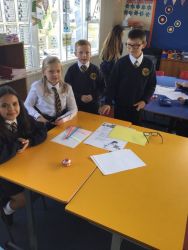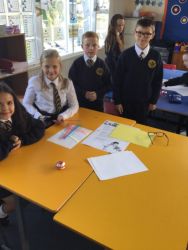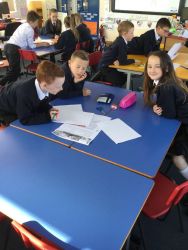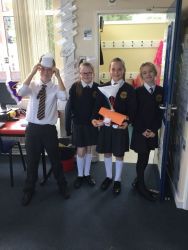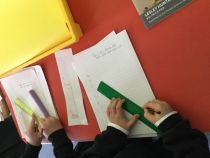 Do taller people have bigger feet?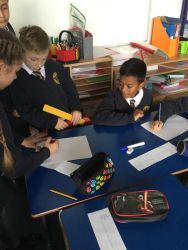 How are we going to record our results?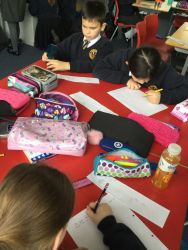 We found that taller people do have bigger feet.
Primary 7's topic work on the Human Body is well underway. We have looked at the organs in the body as well as the skeleton. We can name bones and know the 3 main purposes of the skeleton: to protect, to support and to help with movement. Every Tuesday we are doing practical activities to back up what we have learned in Monday afternoon sessions. These pictures show a mixture of children from both classes designing a protective package for a Tunnock's Teacake. The teacake represents delicate organs like the brain or lungs and the packaging each group designed represents the job of PROTECTING which the skeleton (skull or rib cage) does for our organs. We will post some of our write ups here when they have been completed.
As part of our 'Mighty Me'/Human Body topic, we investigated if people who are taller have bigger feet. To do this we decided to order ourselves from tallest to smallest within our groups. Then we recorded the shoe size of each person in a table. We thought it would be easier to show the pattern on a bar or line graph. Each group proved the theory that generally, taller people have bigger feet than shorter people.
Primary 7 Classwork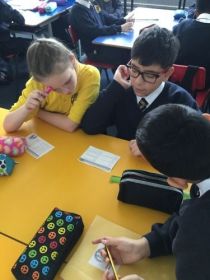 Primary 7 are also mixing on a Thursday after break to complete literacy AND numeracy comprehension activities. We hope this will help us, especially with our problem solving abilities. Our numeracy comprehensions help us give our maths a context in real life!
Literacy - September - October 2017
In this half term we will be studying:
GRAMMAR
review the importance of word order and the work that words do in sentences, in particular:
nouns, verbs, adjectives, adverbs, pronouns and prepositions
Prefixes and Suffixes
Plural Endings – rules for changing the singular to the plural
connectives used in sentences –classifying for different kinds of text – for example, by position (besides, nearby); sequence (firstly, next)
compound sentences – know and understand that a compound sentence is made up of 2 main clauses
WRITING (Collins Scheme) –
We will be studying a unit based autobiographies and biographies including:

features of both genre
comparison
composing questions
Children will be required to complete an autobiography as part of their Literacy homework – (a scrapbook will be required)
Planning and redrafting of a final writing piece will also be carried out by the pupils.
World Around Us - September - October 2017
World Around Us (Topic Work) -
Our topic this half term is 'Me, Myself and I'– we will be looking at ourselves, where we come from, our bodies (skeleton and internal organs) and our personal timelines. This topic is linked to our literacy unit on Autobiographies.
Children will:
Label diagrams showing the internal organs
Research to find out what job each organ does in the body
Study the skeletal, circulatory and digestive systems
Look at keeping healthy and what this means
Sort Foods into different groups
Look at how exercise affects our bodies
Use ICT to create a PowerPoint about themselves
Complete a number of group investigations relating to the areas above
Find where we live on a World and Northern Ireland Map
Record findings in an organised manner
Work as part of a group
Complete a project about themselves. "This is My Life."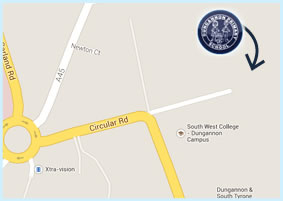 Contact Details
Dungannon Primary School,
Circular Rd,
Dungannon,
County Tyrone,
BT71 6BE
T: 028 8772 2250