Our School Motto/Ethos
Preparing Children, Enriching Our Community, Shaping Futures
As a school we work very hard to ensure your child receives the best possible learning experiences and is provided with the opportunity to achieve his/her full potential. We have reviewed our school motto and believe it is now much more reflective of the work we do, each day, at Dungannon Primary School.
Preparing Children
At Dungannon Primary School we prepare your child to:
Engage effectively in all learning activities
Develop positive friendships
Enhance social and communication skills
Identify personal strengths and areas for potential development
Develop a positive attitude to learning
Identify and celebrate success
Develop mutual understanding and respect for people of different faiths, religions and cultures
Perform to the best of their ability
Become independent learners
Be safe when engaged in on-line activities
Take risks when learning
Learn from our mistakes
Become caring and responsible citizens
Move to post-primary education
Enriching Our Community
At Dungannon Primary School we have many cultures represented. Our children have opportunities to explore their own culture and celebrate the differences between their culture and that of their peers. All work carried out is done in an atmosphere of mutual understanding, respect and trust. We believe our pupils will continue to demonstrate this high level of mutual understanding, respect and trust within their home and local community.
Each child at Dungannon Primary School has many skills and attributes, individual to them. We encourage our pupils to use these skills and talents in their churches, local sporting clubs, youth clubs and music groups. We believe our pupils should demonstrate their good manners and excellent social skills as they walk home, their journey on the school bus, as they shop in local businesses and visit local amenities and recreational facilities.
Shaping Futures
The pupils of Dungannon Primary School are our future. We believe we are preparing our children for jobs, some of which are not yet created. The work force within Dungannon town, the surrounding areas and further afield will be enhanced greatly by the many skills and attributes offered by individuals who once attended our school. We want all our pupils to set their goals, appreciate their strengths and talents and realise that they can make a huge contribution, both now and in the future.
School Ethos
At Dungannon Primary School, we endeavour to support, educate and cherish each and every child in a nurturing and inclusive environment where we celebrate our successes.
At Dungannon Primary School we are committed to:-
The promotion of Christian values as guiding principles for life and living.
Valuing the sanctity of human life and the uniqueness of each individual member of the school community.
Developing an ethos where each member of the school community is sensitive to the personal and pastoral needs of others.
Equal opportunities for all.
The development of tolerance, respect and acceptance of the diversity of human life.
The provision of a safe, secure, happy and stimulating learning environment.
Caring for the natural and material environment.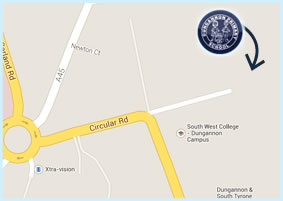 Contact Details
Dungannon Primary School,
Circular Rd,
Dungannon,
County Tyrone,
BT71 6BE
T: 028 8772 2250