Primary 1 LL
Welcome to Miss Leitch's Primary One!
Numeracy - May - June 2021
Mathematics & Numeracy
Number
Touch count sets and make a variety of sets within 15.
Reading numbers to 15 and matching numbers to sets.
Writing the numbers to 15 correctly.
Subitise (say how many are in a set, without touch counting) within 5.
Estimate number of objects within a set within 10.
Order a set of non-consecutive numbers within 10 (increasing and decreasing)
Add two numbers practically, within 10.
Recognise 1p, 2p and 5p coins.
Measures
Use comparative language to find another object that is longer/shorter ;taller/shorter; heavier/lighter/; holds more/less
Talk about events in the present, past and future
Recognise special times on the clock face
Shape &Space
Use everyday language to describe 2D and 3D shapes.
Create own simple patterns.
Handling Data
Talk about how to collect and represent data.
Mental Maths
Count backwards and forwards from different starting points within 15.
Literacy - May - June 2021
Language & Literacy Talking and Listening
· Recount own experiences, using some detail to help the listener, e.g. who, when, where, what
· use props to stimulate and assist the development of language, e.g. puppets, toys, story sacks
· use an extended range of vocabulary, e.g. new words acquired from reading and shared experiences Writing
· apply knowledge of letter/sound correspondences in helping the teacher to scribe and re-read what the class has written;
· write labels, captions and short sentences for pictures and drawings;
· experiment with writing and recognise how their own version matches and differs from conventional versions Reading
· use knowledge of familiar texts to re-enact or re-tell stories
· locate and read significant parts of the text, e.g. picture captions, names of key characters, rhymes and chants
· read aloud familiar texts showing awareness of the need to read with expression, intonation and pace. Phonics
· Learning the skills of blending, segmenting and phoneme manipulation using sounds 'ch, sh, th, wh'
· Use phonic knowledge to read and write simple regular words and make phonetically plausible attempts at longer or more complex words.
World Around Us - May - June 2021
World Around Us (Topic Work) -
Our topic this half term is 'Hip Hop Hooray…Let's go on holiday!'. We will be:
Talking and listening about our holiday destinations and locating these on a map.
Packing a suitcase for our holidays, discussing sun and water safety.
Making a boat and investigating how well it can float when the water is calm and when waves are made.
Comparing and contrasting weather around the world and activities we do at the beach today and in the past.
Recognising our five senses and how we can use these senses at the seaside.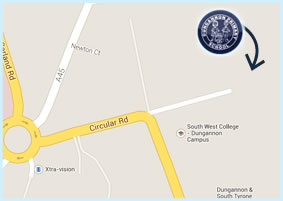 Contact Details
Dungannon Primary School,
Circular Rd,
Dungannon,
County Tyrone,
BT71 6BE
T: 028 8772 2250