Parents and Friends of Dungannon Primary School
Dungannon Primary School has an active and supportive group of parents and friends, which works throughout the school year, organising a wide variety of events and raising invaluable funds for our school and its pupils.
The objectives of the Association are:
To develop more extended relationship between the staff, parents and others associated with the school;
To engage in activities which support the school and the education of the pupils attending it;
To provide and assist in the provision of facilities for the school; and
To encourage parents and friends to support the school and school activities, as well as cultural, social and recreations activities among pupils, parents and teachers.
A committee, which administers the affairs of the Association, is elected at the Annual General Meeting. However, the Association is more than just a committee. If you are a new parent you will get a great deal of enjoyment and satisfaction out of either supporting the events that we are organising or by helping to organise and run them.
If you have some spare time or interesting fund-raising ideas why not join our Parents & Friends Association or make yourself available at some of our forth-coming events. We would love to see you there!
Parents & Friends Committee
Chairperson: Esther Gallagher
Secretary: Helen Nesbitt
Committee Members:
Sandra Hazelton
Cheryl Graham
David Thompson
Heather Wilson
Deputy Chair Person: Paula Gilpin
Treasurer: Rasa Jurgiliene
Claire Kerr
Adam Lawson
Bernadetta Cunningham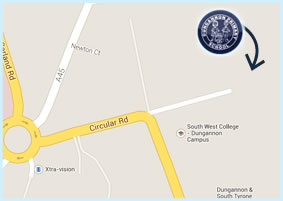 Contact Details
Dungannon Primary School,
Circular Rd,
Dungannon,
County Tyrone,
BT71 6BE
T: 028 8772 2250