Primary 6 EB
Welcome to Mrs Bloomer's Primary 6 Class!
Numeracy - May - June 2021
Mathematics & Numeracy – In this half term we will be studying:
Number
Revision of all numerical operations – addition, subtraction, multiplication and division
Division with remainders as decimals
Addition and subtraction of fractions
Multiplication of fractions
Algebra – a symbol representing a number
Measures
Estimate, measure and calculate weight
Convert between all metric units of weight
Use formulae to find the volume of a 3D shape
Shape and Space
Investigating nets of 3D shapes
Revision of 2D shapes and their patterns
Data Handling
Read and interpret line graphs
Collect Data and display in graphical form
Answer questions about given data
Use numeric system to develop idea of chance based upon number of possible outcomes. g. chance of getting "heads" when spinning a coin: one flip, two possible outcomes - chances are 1 out of 2.
Mental Maths
revision of all times tables
Literacy - May - June 2021
Language & Literacy – In this half term we will be studying:
GRAMMAR
Revision of all parts of speech
Colons and semi colons
Compound and complex sentences
Understand how clauses can be manipulated to achieve different effects in complex sentences
Use active and passive verbs
WRITING
Study how effective arguments are constructed in journalistic writing
Write a balanced report on a controversial issue
Take part in debates
Understand the features of explanatory texts
Create, organise, refine, and present ideas using traditional and digital means, combining text, graphics or sound e.g keynote or PowerPoint presentation
Writing related to class novel 'Street Child' – diary entry
Newspaper report
Writing about an event from a character's point of view
Planning and redrafting of a final writing piece will also be carried out by the pupils.
World Around Us - May - June 2021
World Around Us (Topic Work) -
Our topic this half term is 'Space' Children will:
In groups children will discuss and record what they know about Space and also what they want to find out.
Use a torch to investigate how the earth, moon and sun move around to create day and night and the seasons.
Using the internet to find out facts about the sun, moon and stars.
Investigate the phases of the moon
Find out about and investigate gravity – use different sized objects to create a fair test to see if larger objects fall quicker than smaller objects.
Learn the names of the planets and create mnemonics to help them remember the names. Explain that Pluto is no longer seen as a planet. http://www.ict4us.com/mnemonics/en_planets.htm
Find out about the history of space travel – using the internet and books.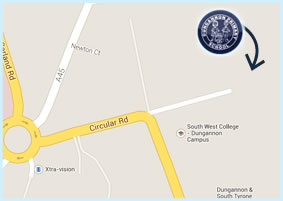 Contact Details
Dungannon Primary School,
Circular Rd,
Dungannon,
County Tyrone,
BT71 6BE
T: 028 8772 2250