Primary 4 PMcK
Welcome to Mrs McKane's Primary Four Class!
P
Numeracy - May - June 2021
Number
Use knowledge of place value to develop a practical method for vertical addition/subtraction HTU – Extend to the written method.
Round numbers within 999 to the nearest 100 and to the nearest 10.
Know doubles of multiples of 10 up to double 50.
Solve a range of addition and subtraction problems, using both written and mental calculations, selecting the operation required.
Understand the 3 times/ 4times multiplication facts as repeated addition, and as arrays.
Know with quick recall multiplication facts for 2, 5, 10, 3, 4 and apply in problem-solving situations.
Understand sharing and grouping concepts of division through practical activities.
Measures
Estimate, measure and compare lengths in metres and centimetres.
Estimate, measure and compare weight in kilograms and grams.
Find the area of shapes by counting squares.
Data handling
Discuss, draw and label bar charts which require scales, using paper and ICT. Interpret results and draw appropriate conclusions.
Shape and space
Understand and use concept of tessellation through practical activities.
Identify right-angles in the environment, using a right-angle tester.
Understand and use "clockwise", "anticlockwise" to describe direction of turn.
Understand and use term "right- angle" to measure an amount of turn.
Literacy - May - June 2021
Language & Literacy – During Term 3
We will be learning to:
Grammar & Punctuation:
· Use commas to separate items in a list.
· Identify pronouns and understand their function in sentences
· Identify collective nouns and understand their function
Reading:
· Begin to understand the concepts of audience and purpose
· Know how to summarise orally the content of a passage or text in order to identify the main point
· Know the layout of letters, including use of paragraphs, ways of starting, ending and ways of addressing different audiences.
Writing Genres to include:
· Non-fiction
· Myths
· Poetry
· Pupils will explore the main features of each genre and will compose their own versions.
World Around Us - May - June 2021
World Around Us -"WW2"
Geography (Map Work)
· Understand that a world map can be used to locate places.
· Know and find the 8 compass points.
History
· To find out about famous people in the past. (e.g. Anne Frank)
· Find out about the past from the memories of older people
· Find out about the past from artefacts and objects from the past
· To place events on a timeline
Science and Technology
· To recognise some differences between materials including colour, shape, texture and behaviour.
· The importance of a fair test: e.g. parachute investigation/ blackout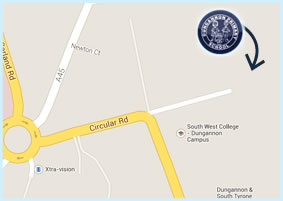 Contact Details
Dungannon Primary School,
Circular Rd,
Dungannon,
County Tyrone,
BT71 6BE
T: 028 8772 2250