Primary 7 AY
Welcome to Mr Young's P7 Class!
Numeracy - January - February 2022
NUMBER
Revision of all numerical operations – addition, subtraction, multiplication and division
Division with remainders as decimals
Addition and subtraction of fractions
Fractions of amounts
Multiplication of fractions
Algebra – a symbol representing a number
MEASURES
Estimate, measure and calculate weight
Convert between all metric units of weight
Use formulae to find the volume of a 3D shape
SHAPE AND SPACE
Investigating nets of 3D shapes
Revision of 2D shapes and their patterns
DATA HANDLING
Read and interpret line graphs
Collect Data and display in graphical form
Answer questions about given data
Use numeric system to develop idea of chance based upon number of possible outcomes. g. chance of getting "heads" when spinning a coin: one flip, two possible outcomes - chances are 1 out of 2.
Literacy - January - February 2022
LITERACY
GRAMMAR
Revision of all parts of speech
Colons and semi colons
Compound and complex sentences
Understand how clauses can be manipulated to achieve different effects in complex sentences
Use active and passive verbs
WRITING
Writing poetry in range of forms: kennings, haikus, tankas, fast poems (cinquains)
Writing stories: sci-fi focus and learning about genres of stories and writing forms
Writing alternative endings to stories
Writing and planning a story linked to ICT and film work
World Around Us - January - February 2022
Learn our Solar System's planets names and features
Investiage the nature of planets and their formation
Understand the role of our Sun
Understand the phases of the moon
History of space exploration and moon landings
Introduce basic rocketry and space craft eg. Saturn V and space shuttle missions
Write newpaper report on moon landings
Following current space endeavours eg. James Webb telescope
Understand the make of galaxies
Conduct experiements relating to space science
Link space topic to sci-fi literacy writing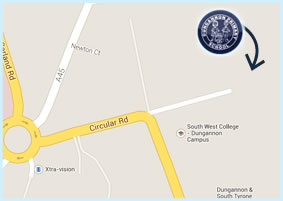 Contact Details
Dungannon Primary School,
Circular Rd,
Dungannon,
County Tyrone,
BT71 6BE
T: 028 8772 2250