Primary 5/6 FK
Welcome to Mr Kelly's Primary 5/6 Class!
Literacy - May - June 2021
Language & Literacy – During Term 3
Talking & Listening
Talk about what they are learning.
Understand the techniques of persuasive language.
Become self-directed by working on their own or with a group.
Reading (At appropriately differentiated levels)
Engage in guided and shared reading sessions using both fiction & non-fiction texts.
Develop our literal and inference reading comprehension skills.
Writing (At appropriately differentiated levels)
Grammar & Punctuation
Know and understand the term 'metaphor' and compare with similes.
Understand how the comma is used to embed phrases and clauses within sentences.
Know and understand the term 'preposition'.
Understand and use apostrophe for contraction and possession.
Writing
Write metaphors from original ideas.
Write persuasively on an issue setting out and justifying a personal view.
Write from another character's point of view.
Review and edit writing to produce a final form.
Numeracy - May - June 2021
Mathematics & Numeracy – During Term 3 we will be studying:
Number
Demonstrate value of any 1 d.p. number.
Round 1 d.p. numbers to the nearest whole number.
Know equivalence of simple fractions.
Find fractions of quantities.
Recognise simple percentages and know their equivalent fractions.
Solve a range of multiplication and division problems.
Measures
Calculate volume.
Use a thermometer to measure temperature.
Apply knowledge of metric unites to real life contexts.
Handling Data
Interpret composite bar charts.
Extend range of vocabulary when describing likelihood of events.
Shape and Space
Classify triangles according to their particular properties.
Identify nets of 3D shapes.
Mental Maths
Quick recall of multiplication and division facts.
Mentally multiply any whole number by 10 and 100.
Find what must be added to a 1dp number to make the next whole number.
World Around Us - May - June 2021
World Around Us (Topic Work) –
This term our topic is Reduce, Reuse, Recycle.
Some of the activities we will be involved in are:
Find out where our waste goes.
Identify ways to reduce, reuse and recycle.
Investigate how long it takes items to decompose.
Compare and contrast Victorian and modern recycling.
Investigate pollution (land, air and water).
Explore how to reduce the amount of waste we produce.
Participate in gardening activities and explore importance of our natural environment.
Monitor our classroom waste.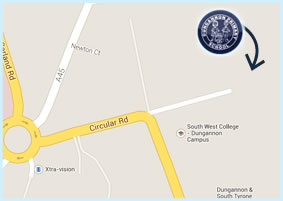 Contact Details
Dungannon Primary School,
Circular Rd,
Dungannon,
County Tyrone,
BT71 6BE
T: 028 8772 2250