LSC W
Welcome to Mrs Wharton's LSC Class.
Literacy - September - October 2021
This term we will be studying:
Language & Literacy
Grammar
· Recognising/Using basic punctuation in a sentence – capital letters and a full stop and consistently remembering to use these.
Writing
· Write a word to finish a sentence/Talk about, plan and record sentences based on pictures, topic work or personal interest.
· To read over their work to check if it makes sense and to correct their mistakes.
· Develop letter formation/Think about spacing between words and size of letters.
Spellings and Phonics
· Know initial sounds from units 1 - 8 Sounds-write programme/Know and understand that the same sound can be represented in more than one way.
· Identify and categorise the most common spellings of the same sound eg boat, no, tow, note.
· Be able to spell an increasing number of commonly used High Frequency words independently.
Reading
· Be able to recognise some words/Increase reading accuracy and fluency.
· Promote use of expression when reading.
· Encourage children to talk about what they have read.
· Locate information in a picture/text in order to answer questions.
· Make use of Bug Club and/or Accelerated readers
Numeracy - September - October 2021
Mathematics & Numeracy
Number
· Number recognition & ordering numbers to 5/30/100
· Written methods for addition/subtraction involving single digits/two digit numbers with and without exchange.
Measures
· Calendar work using days of the week and months of the year.
Shape & Space
· Recognise, name, sort & talk about 3D shapes
Mental Maths
· Rounding numbers to the nearest 10
· Counting forwards and backwards in steps of 2
World Around Us - September - October 2021
World Around Us - Wonderful Me
Geography
· Observe and record weather daily using symbols (COT)
· Observe seasonal changes in the landscape (COT)
History ( A Sense of the Past/ An Awareness of Evidence/ An Awareness of Time
· Use words and phrases relating to the passing of time (COT)
Science and Technology
· To know that we have senses and these help us to understand the world (I)
We will be investigating each of the 5 senses through practical activities and thinking about how the senses help to keep us safe.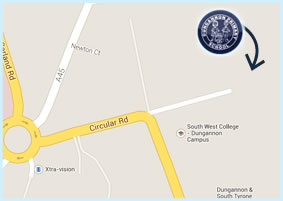 Contact Details
Dungannon Primary School,
Circular Rd,
Dungannon,
County Tyrone,
BT71 6BE
T: 028 8772 2250