LSC B
Welcome to Mrs Black's LSC Class!
Numeracy - January - February 2022
In January and February, we will be studying:
Number
Copy, continue and devise repeating patterns;
Explore patterns in number tables;
Understand the use of a symbol to stand for an unknown number;
Understand and use simple function machines.
Recognise and use simple everyday fractions.
Measure
Understand and use scale in the context of simple maps and drawings;
Recognise times on the analogue and digital clocks and understand the relationship between the 12 and 24-hour clocks, use timetables.
Shape and Space
understand the notion of angle in the context of turning, recognise right angles, understand clockwise and anti-clockwise,
Develop language associated with line and angle, recognise properties of acute, etc.
Data Handling
Design and use a data collection sheet, interpret the results, enter information in a database or spreadsheet, and interrogate and interpret the results;
Understand, calculate and use the mean and range of a set of discrete data.
Money
Recognise coins and use them in simple contexts;
Add and subtract money up to £10, use the conventional way of recording money, and use these skills to solve problems;
Talk about the value of money and ways in which it could be spent, saved and kept safe;
Talk about what money is and alternatives for paying, for example, cheque book, debit card, credit card;
Decide how to spend money.
Times Tables: Please practise these regularly during the week.
Literacy - January - February 2022
In January and February, we will be studying:
Talk for Writing
Listen and respond to others in whole class/small group discussions; follow up on others' points
Speak clearly and coherently to a range of audiences
Reading (At appropriately differentiated levels)
Engage in guided and shared reading sessions using both fiction & non-fiction texts.
Develop our literal reading comprehension skills.
Writing (At appropriately differentiated levels)
Sentence Construction & Punctuation:
Revise the need to demarcate the end of a sentence with a full stop and the start of a new one with a capital/ uppercase letter.
Investigate the use of question marks and exclamation marks in reading and writing.
Grammar
Use the term "verb" correctly.
Use verb tenses with increasing accuracy in speaking & writing: see/saw, go/went etc.
Noun, adjectives, verbs, adverbs, preposition, conjunction, homonyms and homophones. Introduction to paragraphs and exciting sentences -similes.
Spellings
Based on sounds and spelling from Sounds~Write lessons each week.
Revise the fact that two letters can represent one sound [e.g. sh, ch, th, ng, ck, wh, qu]
Know that the same phoneme (sound) can be represented in more than one way e.g. go, grow, boat, note.
World Around Us - January - February 2022
Based on our topic of ELECTRICITY we will be competing enquiry-based lessons to help us understand what electricity is, how it is created and how it is measured.
As historians and geographers, we will study how electricity has changed overtime and who discovered electricity.
Each child will create a PowerPoint presentation about the information they have learnt through internet research, books and investigations.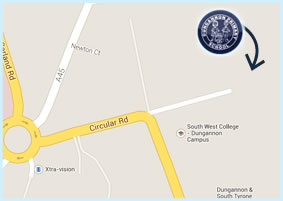 Contact Details
Dungannon Primary School,
Circular Rd,
Dungannon,
County Tyrone,
BT71 6BE
T: 028 8772 2250