Primary 2 - 2020 - 2021
Welcome to Mrs Atkins' Primary Two Class!
Numeracy - May - June 2021
Mathematics & Numeracy – In this half term we will:
Understand and use mathematical language when talking about their work. Solve everyday problems in the classroom. Recognise simple patterns and say what comes next.
Number
Count forwards and backwards in 1's, 2's and 10's from any number answers within 100.
Show that numbers between 10 and 100 can be made up of a "ten" and so many "ones".
Use complementary addition to work out 'how many more' to make a total.
Use a number line to count on for addition and count back for subtraction within 20, recording calculations horizontally.
Find the difference between two numbers within 20 practically.
Solve problems using addition and subtraction skills, selecting the operation required.
Money
Investigate different combinations of all coins up to 20p to make a particular amount within 20p.
Measures
Understand and use analogue and digital clocks for o'clock and half past times.
Understand and use comparative language for weight, capacity, length and area.
Shape and Space
Compare the main 3D shapes (cube, cuboid, sphere and cylinder) and say how they are similar / different.
Key in instructions for a controlled device (e.g. Beebot) to move from one specific location to another, estimating distances and using trial and improvement strategy
Handling Data
Talk about possible areas for data collection, and represent this data using pictographs or block graphs (including ICT generated).
Literacy - May - June 2021
Language & Literacy – In this half term we will: Talking and Listening
· Convey simple information showing awareness of what the listener needs to know.
· Listen to and follow instructions accurately. Sentence Construction & Punctuation:
· Understand the concept of a sentence and apply this understanding in reading and writing.
· Understand the concept of question and exclamation marks and apply this understanding in reading and writing. Reading
· Know the terms: 'title', 'cover page' and 'blurb' and use to predict.
· Understand basic story elements and make comparisons, e.g. beginnings and endings, characters, incidents and settings in different stories.
· Understand that non-fiction books on similar themes can give different information and present similar information in different ways. Phonics & Spelling:
· Segmenting and blending sounds to read and write words using one sound but different spellings e.g. all the different ways to spend the /k/ sound:- <c> cat , <ck> sock and <k> milk. Handwriting:
· Write lower and upper case letters using the correct sequence of movements, ensuring the correct letter orientation to write on lined paper.
· Tall letters, small letters and 'tails' hanging below the line letters. Writing:
· Demonstrate an awareness of key features of narrative in writing, e.g. significant incidents and simple settings.
· Create short, simple texts on paper and on screen which combine words with images (and sounds).
World Around Us - May - June 2021
World Around Us (Topic Work) - A Pirate Adventure
Geography
To use language to identify position relative to other objects or places (P)
To follow and to give simple directions to places in the immediate environment (P)
To recognise different viewpoints e.g. from above, below, the side (P)
History
To recognise and record the sequence of events in simple stories and in personal history e.g. photos and artefacts (COT)
To find out about their own and other people's history (COT)
To use simple vocabulary in relation to the passage of time e.g. before/after (COT)
Science and Technology
To identify push and pull (M&E)
That pushes and pulls, including air and water, can make things move (M&E)
That sounds come from a wide variety of sources and that people and other animals hear sounds with ears (P, M&E)
That we can make sounds in a variety of ways and these sounds can be loud or quiet (M&E)
Using ICT
Express: Use Word to write sentences about a given topic. Use shift key to use an upper case letter. Use full stops. Change font colour and insert pictures. Use digital camera to take photos as part of the topic. View the photos on screen and talk about them.
Explore: Programme Bee-Bot to move to a given point using a series of commands.
Evaluate: Talk about ICT work to a teacher.
Exhibit: Save work. Children can print work using the print icon.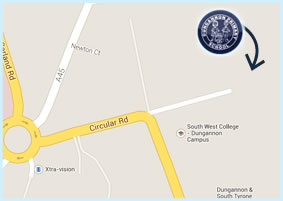 Contact Details
Dungannon Primary School,
Circular Rd,
Dungannon,
County Tyrone,
BT71 6BE
T: 028 8772 2250