Primary 2 JA
Welcome to Mrs Atkins' Primary Two Class!
Numeracy - January - February 2022
We will be learning to: Understand and use mathematical language when talking about their work. Solve everyday problems in the classroom. Recognise simple patterns and say what comes next.
Number
Count forwards and backwards in 2's from odd and even numbers within 20.
Know the number "before", "between" and "after" within 20.
Practically subtract an amount from a set, within 20, as "take away", "subtract" or "finding the difference".
Use number line to count on for addition within 20, recording calculations horizontally.
Know doubles to 5 + 5.
Money
Exchange higher value coins (up to 10p) for 1p's.
Calculate change required when buying items from 5p and then from 10p.
Measures
Understand and use analogue time: o'clock only.
Understand and use digital time: o'clock only.
Shape and Space
Recognise and describe turning movements using appropriate terms (e.g. left, right, turn towards / away from)
Handling Data
Use given one criterion Carroll Diagrams to sort for negation, explaining completed diagram (e.g. stating how many animals did not have 4 legs).
World Around Us - January - February 2022
World Around Us -
Our topic in January and February will be 'China.'
The children will explore the topic of China: Chinese culture and traditions including food, weather, clothing, famous landmarks, famous figures, inventions, ancient Chinese myths and legends and animals.
We will also explore 'push and pull' forces within their topic work, specifically related to how The Great Wall of China was built. Pupils will create their own Chinese items from junk-art materials.
The children will use a variety of musical instruments to recreate the Chinese music, and participate in a Chinese Morning Exercie routine and Dragon Dance. Pupils will compare and contrast local and Chinese cultures and traditions. To conclude their WAU topic, pupils will celebrate Chinese New Year and a Tiger Tea party.
ICT -
Explore: Use 'ScratchJr' to explore and interact with a digital device.
Express: Use microphone button to record and play back our own voice.
Exchange: Discuss how we communicate with people across the world through the use of phone (calls and messages)
Evaluate: Talk about their work. E.g. talk to the teacher about the picture they created on 'ScratchJr'
Exhibit: Show our 'ScratchJr' projects to our classmates.
Primary 2JA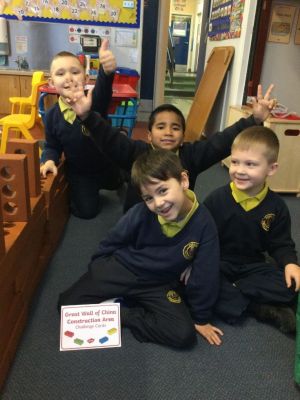 Literacy - January - February 2022
Talking and Listening
Recite poems and rhymes with some variety in pace, emphasis and intonation.
Use different voices for characters when reading aloud.
Reading
Learn about rhyme by exploring patterns orally, substituting words and phrases extending patterns and playing with rhymes.
Know the terms 'fiction' and 'non-fiction', noting some of their different features e.g. layout, titles, contents page, use of pictures, labelled diagrams etc.
Sentence Construction & Punctuation:
Use the term 'sentence' appropriately to identify sentences in a text, i.e. those demarcated by capital letters and full-stops.
Use features of punctuation to read in a phrased and fluent manner.
Phonics & Spelling:
Sounds~Write: New sounds where 2 letters represent 1 sound.
Rhyming cvcc and ccvc words, high frequency words and number names.
Handwriting:
Write lower and upper case letters using the correct sequence of movements , ensuring the correct letter orientation. Begin to write on lined paper.
Writing:
Use phonological and graphic knowledge and sight vocabulary when spelling during writing tasks.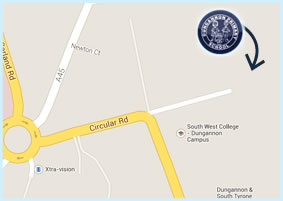 Contact Details
Dungannon Primary School,
Circular Rd,
Dungannon,
County Tyrone,
BT71 6BE
T: 028 8772 2250