LSC C/C
Welcome to Mrs Clayton's and Miss Campbell's LSC Class.
Numeracy - May - June 2021
Mathematics & Numeracy – In this half term we will be studying:
Number
· Making and counting sets up to 20
· Reading numbers to 10 or 20
· Writing the numbers to 10 or 20
· Adding and taking away within 10 or 20
· Exchanging coins for goods in the context of play
· Matching and sorting individual coins
· Using a variety of coins to make a given amount.
Shape &Space
Recognise and name familiar 2D shapes including pentagon and hexagon.
· Talk about these shapes in their environment
· Copy and continue simple patterns Handling Data
· Sort real objects for a given criterion.
· Sort a range of 2D and 3D shapes according to self-chosen criterion
Mental Maths
· Number before/after a given number
· Number naming, recognition from memory
· Find the missing number
· Counting forwards and backwards from a given number.
Literacy - May - June 2021
Language & Literacy Talking and Listening
· Taking turns to speak
· Asking and answering questions, recall the main events in a story.
Writing:
· Hold their pencil using the correct pencil grip.
· Controlling the pencil along different shapes and lines
· Correct use of scissors
· Tracing/Writing their name
· Letter formation
· Select appropriate tools for a range of writing purposes.
· Using our phonic knowledge to help us with our own writing.
Reading:
· Enjoying stories
· Be able to talk about a part of the story that they really enjoyed.
· Be able to talk about the main characters and the setting of a story.
Phonics:
· Blend sounds together to make words.
· Learning that a spelling can be represented by more than one sound.
World Around Us - May - June 2021
World Around Us (Topic Work) - Our topic this half term is 'Summer' .
· Recording sequences of events in simple stories and personal history, e.g. photographs of past holidays
· Talking about and sorting animals and plants both from the UK and other places around the world.
· Finding out how weather in different seasons affects living things.
· Learning that pushes and pulls can make things move.
· Learning how to keep safe in the sun.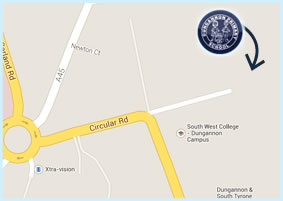 Contact Details
Dungannon Primary School,
Circular Rd,
Dungannon,
County Tyrone,
BT71 6BE
T: 028 8772 2250