LSC C/C
Welcome to Mrs Clayton's and Miss Campbell's LSC Class.
Numeracy - January - February 2022
Mathematics & Numeracy – In this half term we will be studying:
Number
Touch count sets within 10 and understand zero means none.
Reading and writing numbers to 10 and matching numbers to sets and be able to order these numbers.
Compare the size of two sets by matching and
counting within 10 and saying which has less and which has more.
Identifying the missing numbers in a sequence to 10.
Combine sets to find a total within 10.
Measures
Compare and talk about the length, weight, and capacity of two objects/ containers and be able to use balance scales.
Talk about and sequence up to three events.

Shape &Space
Begin to name 2d shapes and recognise some features.
Continue simple patterns.
Follow instructions.
Handling Data
Use mapping diagrams to show the relationships between two sets of objects.
Mental Maths
Counting forward from one, within 10.
Counting forward and back from different starting points, within 10. Extend range of counting to include zero.
Know the number after, before and between within 10.
Literacy - January - February 2022
Language & Literacy

Talking and Listening
Speaking clearly and audibly, with
confidence.
Be able to use props such as
puppets, toys or story sacks when talking to the rest of the class.
Answer simple questions about the main events in a story.
Writing
Writing labels or captions for pictures or drawings.
Select appropriate tools for a range of writing purposes.
Be able to form and recognise some initial sounds.
Reading
Enjoy looking at a variety of texts related to the topic – fiction/ non-fiction.
Be able to hold a book correctly, turning one page at a time from front to back.
Phonological Awareness
Begin to recognise some high frequency words.
Blend sounds to write and read cvc words, e.g mum, cat, dog.
World Around Us - January - February 2022
World Around Us (Topic Work) - Our topic this half term is 'On the Farm'. We will be:
Learning to recognise some of the jobs carried out in our community, e.g farmer, vet, dietician.
Discovering how weather conditions affect people and animals throughout the year.
Finding out about farming in the past through stories and memories.
Learning the names of farm animals (baby names also) and plants.
Finding out what produce we get from a sheep and a cow.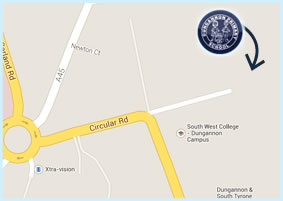 Contact Details
Dungannon Primary School,
Circular Rd,
Dungannon,
County Tyrone,
BT71 6BE
T: 028 8772 2250