Primary 1 LL
Welcome to Miss Leitch's Primary One!
Numeracy - January - February 2022
Mathematics & Numeracy – In this half term we will be studying:
Number
· Recognise and use 1p and £1 coins in the farm shop to buy one thing at a time, with no change.
· Touch count sets within 10 and understand zero means none.
· Reading and writing numbers to 10 and matching numbers to sets and be able to order these numbers.
· Compare the size of two sets by matching and counting within 10 and saying which has less and which has more.
· Identifying the missing numbers in a sequence to 10.
· Combine sets to find a total within 10. Measures
· Compare and talk about the length, weight, and capacity of two objects/ containers and be able to use balance scales.
· Talk about and sequence up to three events.
· Understand the concept of area as the idea of covering a surface.
Shape & Space
· Sort 2d and 3d shapes and talk about why you have sorted them in that way, e.g. the number of sides.
· Continue simple patterns.
· Follow instructions.
Handling Data
· Use mapping diagrams to show the relationships between two sets of objects.
Literacy - January - February 2022
Language & Literacy
Talking and Listening
· Speaking clearly and audibly, with confidence.
· Be able to use props such as puppets, toys or story sacks when talking to the rest of the class.
· Ask and answer questions and recall the main events in a story.
Writing
· Writing labels or captions for pictures or drawings.
· Think about, discuss and rehearse what they intend to write, ahead of writing it.
· Select appropriate tools for a range of writing purposes.
· Be able to form and recognise the sounds x, y, z, ll, ff, zz and ss and use these to write words.
Reading
· Be able to read words printed or handwritten in a variety of settings and locate full stops and capital letters.
· Use a variety of sources of information when reading and re-read familiar texts.
· Be able to talk about the main characters and the setting of a story.
Phonological Awareness
· Read a range of high frequency words in a variety of contexts.
· Blend sounds to write and read cvc words, e.g mum, cat, dog.
· Know that letter names are not the same as letter sounds.
World Around Us - January - February 2022
World Around Us (Topic Work) - Our topic this half term is 'On the Farm'.
We will be:
· Learning to recognise some of the jobs carried out in our community, e.g farmer, vet, dietician.
· Discovering how weather conditions affect people and animals throughout the year.
· Finding out about farming in the past through stories and memories.
· Learning the names of farm animals (baby names also) and plants.
· Finding out what produce we get from a sheep and a cow.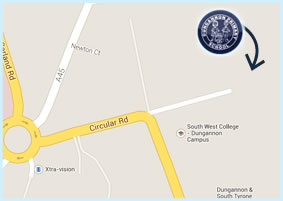 Contact Details
Dungannon Primary School,
Circular Rd,
Dungannon,
County Tyrone,
BT71 6BE
T: 028 8772 2250