Eco-School News
Our Eco-Schools Committee are working very hard to ensure we keep our Green Flag flying high at Dungannon Primary School!
We have three topics that we are focusing on.
Biodiversity.
As a healthy and caring Eco School we will care for biodiversity in several ways: By encouraging the use of the outdoors to teach and learn about biodiversity. By making choices that affect the use of natural resources. By aiming to reduce its global footprint on habitats and species, both locally and globally.
P1 pupils will produce some art from recyclable materials (bottletops) to celebrate biodiversity during their 'Down on the Farm' and 'Growing' topics in March and April.
In Term 1, P2/3 participated in Forest Schools in the gardens at The Hill of The O'Neill. We learned so much about Nature and we looked at the variety of plants, trees and animals while we were there each week.
P2 ran a Hedgehog Campaign: liaising with TACT Wildlife Centre. We built hedgehog houses and made hedgehog clay models – all as part of 'Autumn' Topic in Term 1A.
P2, P3 and P4 pupils carried out Biodiversity surveys of the school grounds in September and these will be repeated in January and May. The children have been learning how to submit the completed surveys to the Data Zone of the Ecoschools website.
In Term 1 P4 participated in RSPB Big Schools' Birdwatch. They uploaded data from last year and compare the two surveys. They used recyclable materials to construct bird feeders for the school grounds.
P5 harvested Lavender plants to produce scented fabric sachets using recycling fabric. They printed with stems/flowers all as part of their Life in Tudor Times topic. They will complete the 'Bee Pollinator Programme' by the end of this school year.
P7 harvested potatoes in Term 1 that they planted whilst in P6 last year – such a crop! They link this to finding out all about the Irish Potato Famine as part of their Victorians Topic. They will use CCEA CCEA 'Growing for the future' materials to learn about potato farming.
2. Global Perspective
Our pupils need the knowledge, skills, values and attitudes that will enable them to participate as full members of a global society. As global citizens, they need to consider rights and responsibilities and the role of citizens in a democratic society.
A 'before' survey for Global Perspective was completed by all pupils from P4 – P7 and the data uploaded to the Datazone of the Eco Schools Website. The 'after' survey will be completed in Term 3.
Throughout this school year all of our pupils will be finding out about some Global Learning Actions from Oxfam's Curriculum for Global Citizenship through their topic work.
P7 will be studied the Fair Trade Banana Production Line in Term 2 and organised a whole school Bun Sale as a wee treat for everyone during Fair Trade Fortnight raising a total of £136.00. Well Done P7!
3. Energy
All of our pupils have an important role to play in increasing awareness of energy issues and improving energy efficiency.
In September all our Key Stage 2 pupils participated in an Energy Efficiency School Presentation by Lynsey Mccrea, the Education Adviser from Bryson Energy.
In Term 1 the whole school community participated in the 'Energy Saving Schools Challenge' where all the pupils carried out four simple energy saving activities at home. The Energy Saving Trust issued our school with a certificate stating how much CO2 our pupils managed to save throughout Energy Saving Week.
P7 designed posters to encourage the whole school community to 'switch off' during 'Power Down Day' on Friday 23rd November. Every class switched off all of their electrical appliances and lights and the Eco Committee members obtained metre readings from Mr Gallagher to show how much our energy usage differed when we made a concerted effort to switch off during Power Down Day.
All of our classrooms display reminders to switch off lights etc when not in use.
In Term 2 Mr Young's P6 pupils will participate in an 'Energy Trip' around the school buildings to be facilitated by Mr Gallagher. These pupils will complete Maths investigations linked to oil and electricity usage within a school year and an exploration of fluctuations throughout the year and the cost to the school. The P6 pupils will obtain and upload monthly readings from September – June 2019 to the Datazone section of the Ecoschools Website.
P7 will upload Solar panel readings to Datazone as part of their studies of the sun during their Space Topic. The pupils will make solar panels out of Junk materials and use them to collect temperature readings using data logger etc.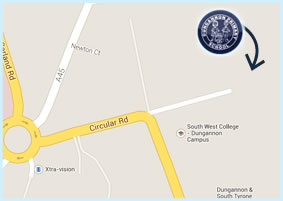 Contact Details
Dungannon Primary School,
Circular Rd,
Dungannon,
County Tyrone,
BT71 6BE
T: 028 8772 2250