Harvest Service at St. Anne's Church, Dungannon
2nd Nov 2021
On Friday 22nd October 2021, the whole school walked to St. Anne's Church, Dungannon and held their first whole school event in over 18 months. This was a perfect opportunity for the boys and girls to say thankyou to God for all that he has provided and for the wonderful and beautiful world we live in.
The children remained in their class bubble for the duration of the service and participated in a variety of songs, poems and prayers. Thank you to the Select Vestry for allowing us the use of the church. Thank you also to Rev Bryan Martin for participating and sharing with us his thoughts about Harvest.
Helen D'Arcy, Fields of Life, spoke to the children and informed them how the money, that was raised to sponsor Mr Thompson when he completed his 50 walk challenge, would be spent. The children learned that they would be providing water for hundreds of people in Uganda and preventing children from getting sick as a result of drinking dirty and contaminated water.
Thank you to all who contributed to our Harvest Table appeal. All the food has been forwarded to Lite Bite and will be distributed to families in need in the coming days.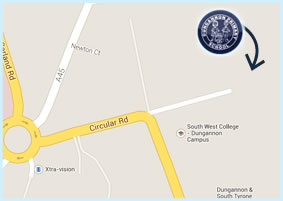 Contact Details
Dungannon Primary School,
Circular Rd,
Dungannon,
County Tyrone,
BT71 6BE
T: 028 8772 2250