Our Trip to the North Coast
4th May 2022
On Tuesday the remaining pupils headed up to the North Coast for a day trip.
Our first stop was to the Giant's Causeway. We made our way down to the famous hexagonal basalt columns that sit along the shore. We had our very own tour guide who told us of the legend of the giant Finn McCool and pointed out the landmarks as we went along.
After eating our snack we climbed our way to the top of the stones to take in the view.
Jumping back onto the bus we headed for the beach in Portrush. We had our packed lunch then off came the socks and shoes to dander, play, dig holes, burry, and paddle on the beach. It was a perfect afternoon. We had the beach to ourselves, which was just as well because there was a very serious volleyball tournament taking place.
It goes without saying that you can't go to the beach without getting an ice-cream. After a short play at a Portstewart playpark we were ready for our tea at Tides Restaurant. The food was amazing and everyone tucked in with not too much to spare. We returned to school with possibly some sand still between our toes and in our hair but we truly had a lovely day.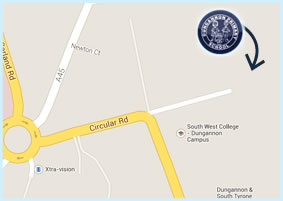 Contact Details
Dungannon Primary School,
Circular Rd,
Dungannon,
County Tyrone,
BT71 6BE
T: 028 8772 2250